Super Bowl halftime show: Too inappropriate for young viewers?
Hang on for a minute...we're trying to find some more stories you might like.
The Super Bowl halftime show is always something everyone in America is nervous to see. This year it was definitely one that no one will forget. Jennifer Lopez and Shakira were the stars of the 2020 Super Bowl and there has been a lot of backlash from their performance.  
From dancing to singing, Lopez and Shakira surely put on a show. For 15 minutes Lopez and Shakira showed the world why they perform. Many people tweeted their opinions saying the show was too 'raunchy' and that it sent a 'bad message to kids'.  
One of the biggest reasons for the backlash was their outfits. Some claimed that they looked 'skimpy' however in 2013, Beyonce also gave an outstanding performance during the Super Bowl, and even though many love Queen Bee and her outfits and performances, there is no doubt that her outfit was just as revealing as Lopez and Shakira's. Senior Claire Bebow agreed with others saying,"the show was geared more towards an advanced audience- the apparel and dances were a little scandalous."  
This year's performance was a great show that showcased singing while dancing. Looking back at the performance, there were subtle political statements that weren't noticeable until looking on Twitter and all of the tweets that were written about the show. Some- had an even bigger impact than most would think. 
While Lopez was singing 'Born in the USA', they featured children in cages. While some saw it as a set up there was much more to it than that. The cages represented the Latino children that are being detained in Migrant Detention Centers who have been taken away from their parents. They were bringing light to those situations so people wouldn't forget what happened to innocent children.
A meme is going around showing Shakira making a strange noise with her tongue. In reality it's a sound that is similar to a traditional Arabic expression of joy and celebration called a zaghrouta. It's interpreted at a Carnival held in Shakira's hometown, Barranquilla, Colombia. 
When looking at the performance as a whole many people just saw two women shaking their butts and pole dancing, but looking at the little details that Lopez and Shakira added, shows how much attention we need to be bringing to these situations. It's important for everyone -even the younger audience- to notice those things and be more educated about them.
About the Contributors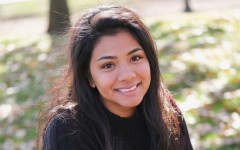 Ilah Perez-Johnson, Sports Editor
Ilah Perez-Johnson, a senior at Pleasant Valley, is very involved with athletics. She has played volleyball all four years of High School and was an essential...