Knight in shining armor visits the Quad Cities
Once upon a time, a knight in shining armor wanted to bring joy and happiness to everyone and give them their night to shine. That knight in shining armor is Tim Tebow and his foundation. 
Every year at the beginning of February, churches all around the world host a prom for people with disabilities called Night to Shine. Four years ago, the Quad Cities got their very own. 
The prom brings over 330,000 volunteers and guests together and with over 720 host churches worldwide, the goal for this event is simple — to make those with disabilities feel loved and honored.
This year's main coordinator of the Quad Cities Night to Shine was Scott Sievert, who worked with his team to make this night as fun as possible. "We started planning in October so that we would be prepared. The night of, we started setting up at 8:00 am and worked until the event started at 5:30 pm," he said.
Hosted by Our Lady of the River Catholic Church and Risen Christ Lutheran Church, the Night to Shine is an event that many people look forward to. Sievert was very grateful for the help, "the two host churches both have a heart for missions and a call to serve the special needs community. It is a blessing to be able to share God's love with those who are often overlooked," he stated.
Not only does Sievert appreciate the help of the host Churches, but also the help of those who want to make a difference in the community. "Without the volunteers this event would not happen," he said. This year there were 800 volunteers that helped make the night an unforgettable one. 
Junior Reese Wendell has volunteered at the Night to Shine for the past two years and plans on returning for years to follow. "I love it because I get to meet new people and I enjoy getting to dance with all different types of people. It's a fun experience and it makes me feel good to make a difference in someone's life," she said. 
The prom doesn't only benefit the volunteers but the community as a whole. "I think it shows the community how to have a good time, it gives a chance for everyone to experience a different sort of prom and it puts a smile on everyone's face when they walked down the red carpet," Wendell stated.
While volunteering at the Night to Shine is open to anyone, this year's event had some special guests.
Every year, Night to Shine brings in crowned girls and women such as senior Caitlin Crome. She was recently crowned Miss Iowa's Outstanding Teen in 2019 and this year was able to be a part of the magic that happens at Night to Shine. 
"This was my first time volunteering at Night to Shine and I loved every moment of it," Crome stated. Her goal was not only to represent Miss Iowa's Teen, but to put a smile on the faces of everyone she met. 
It's not a secret that this event is something that brings joy to people around the world and is beneficial to everyone in the area. "This event is extremely important to have in the Quad Cities because it brings together such a wide variety of people from all different ages and backgrounds in one really positive night of fun and celebration," Crome said.
Not only is this event held near and dear to many people's hearts, but the Quad Cities actually hosts one of the largest Night to Shine proms across the states of Iowa and Illinois.
With 490 honored guests attending this year's prom, some of Pleasant Valley's own made an appearance — one in particular is freshman Halia Damm. With this being the first year she was able to attend, the experience was something she will never forget. "The entire night was really fun and I enjoyed dancing the most," she said.
Night to Shine is an inclusive event that aims to keep all people comfortable. One of the most inspiring parts of the night is that an honored guest is partnered with a volunteer and they become "buddies" for the night. Walking into a center with a thousand people can be overwhelming and Damm was feeling nervous at first.
"I didn't know who I was going to have as a buddy, but I had a lot of fun and I can't wait to go back next year," said Damm. Damm became close friends with her buddy throughout the night and the coordinators even encouraged volunteers and guests to remain in contact even after the dance.
The knight in shining armor himself makes a special appearance at at least one prom somewhere in the world that night. Although he hasn't made it to the Quad Cities yet, that doesn't stop the guests from feeling grateful. 
"If Tim Tebow was here right now I would thank him for putting on the dance," stated Damm. 
That is what this night is all about. Being in a community that accepts and loves each other is something that every area should strive to achieve.
Once upon a time, a knight in shining armor brought joy and happiness to everyone and gave them their Night to Shine.
About the Writer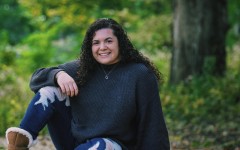 Cecilia Zavala, Overflow Section Editor
Cecilia Zavala is a senior at Pleasant Valley, and a vital part in the Spartan Shield online. In addition to her duties for the Shield, Zavala is a member...