Death across the pond: Caroline Flack incident targets social media
Not only did Caroline Flack's death cause global outrage, but her death has started a much needed conversation about the role of social media in the world.
Flack was a host for Love Island UK, The X-Factor UK and many other shows in the United Kingdom. Although she portrayed her life as being very positive, she was battling many demons. On Feb. 15, news broke that Flack was found in her London home, dead by suicide. 
In Dec. 2019, Flack was charged with assault against her boyfriend Lewis Burton. Flack pleaded not guilty and was released on bail so long as she had no contact with Burton until a hearing that was set for March.
Even Burton, who she allegedly assaulted, stated that Flack didn't smash a lamp on his head like some in the media speculated and instead got into an argument like most couples.
After learning of Flack's death, many stepped out to express their anger towards social media and the tabloids that intervene in the lives of celebrities. In a series of tweets, former One Direction star Niall Horan explained his frustration. "That's our actual friend, a person. Because she is talented and famous she automatically gets treated differently by society and in turn the tabloids and social media," he stated.
This isn't the first time that the media has changed how a famous death was portrayed. According to The Guardian, "Backlashes against the media's coverage often accompany deaths; after Princess Diana was killed in Paris in 1997, the Daily Mail went as far as to pledge it would never again use paparazzi pictures amid widespread anti-tabloid feelings that were soon forgotten as the British public took an interest in a new round of celebrities," they stated.
It isn't just the media that played a role in the death of Flack but, social media as well, like Instagram and Twitter. Looking at Flack's latest posts on Instagram, she had recently turned off viewers ability to comment. 
While turning off the comments on Instagram can be a start to battling off harsh words from strangers, there are a lot of benefits from completely stopping the use of social media.
Some of Pleasant Valley's own have admitted to needing and taking breaks from all forms of social media, including seniors Taylor Conard and Abby Haessler.
"I took a break because my depression was getting really bad and it mostly stemmed from social media," said Conard. "Taking the break helped me a lot and it helped me stop comparing myself to others," she said.
Although some people claim that social media doesn't lead to further issues of depression or anxiety, many students of Pleasant Valley disagree. "I think it can cause both depression and anxiety because of what everyone sees on their feed," stated Haessler. 
Social media has been proven to be addictive, trigger more sadness, increase jealousy and deteriorate mental health. Not only do people compare themselves to others, but they analyze every aspect of another's life and compare it to their own. "Depression and anxiety can stem from social media just because of the whole aspect of being 'perfect'," explained Conard.
Not only does social media affect teenagers, but it affects celebrities as well. They constantly have someone following them around, wanting to know every detail about their life. "I believe that celebrities feel extremely pressured to show the 'perfection' of their lives and not how their lives actually are," said Conard. 
Flack's death caused shock and irritation towards all forms of media. People are angry that the media takes personal things and puts it out for people to see and judge. Flack was 40 years young when she passed, but information surrounding her life and death will continue to come for months to follow.
About the Contributor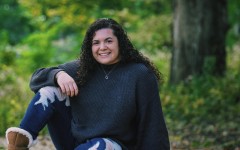 Cecilia Zavala, Overflow Section Editor
Cecilia Zavala is a senior at Pleasant Valley, and a vital part in the Spartan Shield online. In addition to her duties for the Shield, Zavala is a member...