One year later: How P3 has affected student conduct
When P3 was first released, the report-calling app received a large amount of criticism from students. However, what has commonly been called the "snitch" app, has proven to be effective in addressing threats all over the school district.
P3 launched back in 2018 to prevent many problems from occurring around the school district: vaping, forms of violence and students planning to harm themselves. All of these reports are anonymous so the people sending them can keep their name hidden and stay safe.
Jamey Fah is a deputy sheriff in Scott County working with Pleasant Valley to ensure safety and protection throughout the school. Since the launch of the app, he's received numerous reports sent out in both the high school and junior high during the last two years.
"Since its inception last year, PVHS and PVJHS have a total combined number of 869 tips. The first 600 or so tips came in the 18-19 school year and the rest in the 19-20 year so far," said Fah. He emphasizes the points of how useful and effective the app is and — even though there are spam reports — how each report is taken seriously and mindfully.
Fah thought P3 has been very effective because people were able to address serious threats which may have occurred if the app had not been implemented. "We evaluate each tip that comes in carefully to ensure we make the best use of the information we get from it," Fah commented. 
"In the last year we have received three or four tips that allowed us to intercede before a student engaged in self harm," he added. "These students absolutely had a plan to harm themselves, and because a friend or classmate took the time to submit a tip [it was prevented]." Fah has exemplified the importance of the app to help others no matter how big or small that number of people it affects.
Principal Erickson also believes P3 has benefited the school district since its launch. "It's just a communication tool, but it is one more thing to make it easier for people to communicate and help in any way [and] brings more power to it." 
Erickson and Fah's comments helped show the app to be beneficial. Hopefully, it will continue to be another tool for the administration to use across the district to prevent misconducts in the future.
About the Writer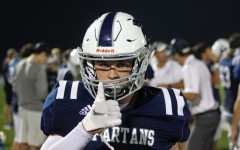 Blake Sherman, Photo Manager
Blake Sherman, a student athlete at Pleasant Valley High School, is a fun, kind and motivated person who enjoys spending time with friends and family as...