A community that stands together grows together
With the uncertain times the world is being presented with, it's heart-warming to see the ways communities are coming together to prove one point–we truly are all in this together. 
Social distancing parties in the parking lots, birthday parties on the growing app Zoom, birthday parades and the heart project are just some of the ways the Quad Cities are making something normal out of an abnormal situation. 
While Iowa governor Kim Reynolds has cancelled schools in Iowa for the rest of the academic year, this hasn't stopped Spartans from having socially distant hangouts in empty parking lots. Junior Vanessa Cooney has been to two hangouts with friends in the last month and plans on going to more.
"We usually text each other saying we want to hang out and then we go to a big open space," Cooney stated. "I think it's really important because all of us are going insane with not being able to see each other."
There's not much that Cooney and her friends can do during the hangouts, but they still bring some peace of mind to her. "We park more than six feet away from each other and then we get out and make Tik Toks," she said.
Driving to a parking lot may not be something that everyone has the accessibility to do. With more and more people following the CDC guidelines and self-isolating, popular apps like Zoom and House Party are making being stuck inside a little more bearable. 
Junior Reese Wendell celebrated her seventeenth birthday in early April. Due to COVID-19 and CDC guidelines, Wendell wasn't able to celebrate her big day the way she was hoping to. This didn't stop her mother and friends from making this a birthday Wendell won't forget. "My mom and two of my friends surprised me with a virtual party with a few of my other friends," stated Wendell. "It was fun to celebrate my birthday even though they couldn't be there in person." Wendell was joined by four of her closest friends on the app Zoom to help her feel special. 
Although it wasn't Wendell's ideal seventeenth birthday, she's glad she has people like her mom and friends who tried their hardest to celebrate with her. "Even though we can't physically be together, it's the best we can do for now," she claimed.
Zoom birthday parties and parking lot hangouts are some of the ways students from Pleasant Valley are staying connected, but there are many more things happening in the community that are helping people get through these challenging times. 
Morgan Turner of LeClaire has two sons who both celebrate birthdays during this unpredictable pandemic. Luckily for the Turners, the Facebook group LeClaire Buy Nothing, stated they would be willing to go around town in the form of a birthday parade to honk and wave at the kids who had to cancel their parties.
That same day, the LeClaire Fire Department posted the same thing. Since then, the two groups have been working together to help kids in town feel special. Turner wanted to do something memorable for her son's third birthday and arranged for both groups to drive by their house with things like horns, lights and signs. 
"The process was super simple and makes me appreciate living in a small town where people come together to lift up their neighbors, even neighbors they haven't met," stated Turner. The parade for her son was full of firefighters, teachers from his daycare and people from town that just wanted to help.
LeClaire is one of the smallest towns in the Quad Cities with a population of 3,970. Turner is thankful to be living in a town where everyone supports everyone. "One of my favorite quotes, from the musical Rent, is 'today for you, tomorrow for me.' To me, this concept and way of living means to give when we are able and to believe our community and support system will have our back when we are down," said Turner.
"I also believe a community isn't a place, it's people," stated Turner. "We are all LeClaire (or PV or the Quad Cities) so how we act and treat each other is how Le Claire (or PV or the Quad Cities) will be."
Other things happening in the Quad Cities such as the Heart Hunters Project and QC Takeout are bringing the community together to assist the less fortunate. While COVID-19 has put many restrictions on how Spartans and community members can live their lives, the Quad Cities continues to pull together to prove that everyone is in this together.
About the Writer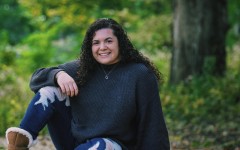 Cecilia Zavala, Overflow Section Editor
Cecilia Zavala is a senior at Pleasant Valley, and a vital part in the Spartan Shield online. In addition to her duties for the Shield, Zavala is a member...