Community coming together despite COVID-19
Alleman's community was shaken last week when two seniors were involved in a car crash and had to be airlifted to Iowa City. But even during a pandemic, the community came together. 
Immediately following the news of the accident tributes were being posted on social media by close friends and family members of the two seniors, Alicia Casas and Roberto Torres. 
However, due to coronavirus, the University of Iowa has restricted visitor access to the hospitals. They are also screening everyone who is entering the hospital. Visitors are having their temperatures taken by a no-touch walk-by thermal scanner. As of April 15, visitors for adult patients have been temporarily suspended and pediatric patients are allowed one visitor per day (must be a parent or guardian). 
For close friends of both Casas and Torres, this is heartbreaking because it will be a while before they are able to see either of them. Keeley Jansen, a sophomore at Central Dewitt and a member of Casas's travel ball team, the Midwest Sluggers 02 was upset that she couldn't visit her teammate. "Alicia and I have been close for a while now and when this happened I was broken. After I found out I couldn't see her I was even more heartbroken," said Jansen. 
Although no visitors are allowed this has resorted in support for Casas and Torres online. Following the accident, posts for both Casas and Torres were emerging online. Torres is a member of Alleman's wrestling team and the team asked the community to pray for both seniors. "Bert is a fighter but he could still use all the help he can get. We have to pray as hard as I know he will fight." 
Support was coming in from coaches, parents, teammates, friends, and members of the community. During times like these, it is so important to provide support for those who need it. Makaila (Mickey) Hernandez-Palos, a junior at United Township and longtime friend and teammate of Casas was blown away by the support. "I was amazed to see how quickly the love and prayers were all over social media. I know my best friend really used all the positivity to push through everything and so did Rob," said Hernandez-Palos. 
Typically when something of this magnitude happens the community will gather together and be able to pray together and provide strength to the families of those involved. But with what is going on due to the coronavirus it may not have been able to happen. 
On Saturday, May, 2 the community held a prayer vigil at Alleman High School. To uphold the social distancing guidelines cars were parked in rows in the parking lot and people stayed in their cars. Those who attended held their phone flashlights during the service. It was an amazing sight to see, especially during a pandemic for a community to still come together. 
So many have supported Casas and Torres since the accident and it is truly a testament to both the community and both Casas's and Torres's impact in their community. Jena Avea, one of Alicia's travel ball coaches believes the community's support will be beneficial in the long run. "Since Alicia and Rob are involved in so many activities between school, athletics, and church they are loved by so many people. Having a great community behind them to support them has given them even more strength," said Avea. 
Both Casas and Torres have both undergone surgery for their injuries and have a long recovery ahead of them. The continued support of their loved ones and community will help them on the road to recovery. 
About the Writer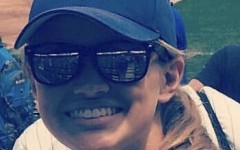 Maggie Peterson, Business Manager
Maggie Peterson, a senior at Pleasant Valley High School, is the current Business Manager for the Spartan Shield Online. Because of her dedication to academics,...