How to start your summer garden
While the nation is at a stand-still, citizens are looking for a reason to go outside. With plenty of rain and shine to go around, family gardens are sprouting up. Gardening is a healthy, productive and fun activity, even for those without a green thumb. There are many foods, herbs and flowers that beginners can start their garden with.
Tomatoes 
If tomatoes could love anything, it would be water and sunlight. Tomatoes are the poster child of gardening. They are great in salads and salsas, and very easy to grow. They tend to grow very tall, so attaching the plant to a rod is a must. They will be ready for harvest in July when the fruits are bright ruby red in color, depending on the breed.
2. Pansies
If a small garden is the only option, pansies are a great choice. These flowers love water and partial to full sunlight. When bloomed, these flowers will brighten your yard with a rainbow of colors. They are very robust and easy to manage. For best results, an occasional pruning will keep them lively.
3. Peppermint
Peppermint is a medium-sized plant for the garden. It does well in full sunlight to partial shade, or indirect sunlight. Again, water is a friend of this plant. The best part about this plant is the leaves provide a minty flavor in tea, desserts or even meats. 
4. Chamomile
Resembling miniature daisies, this herb presents a bright white and yellow flower. Unlike the aforementioned plants, chamomile is typically only found in seed packets. But not to worry! They are very easy to plant as slightly covering the seeds with dirt will do the job. After they bloom, the petals can be picked to create a soothing tea.
5. Strawberries
One of the most iconic summer fruits is strawberries. Once planted, these plants should grow each year. They do take up a large area and can encroach on other plots. Strawberries like sunlight, but be careful not to over-water. In July, the fruit can be harvested and eaten right off the plant.
In these times of isolation, it's important to find an activity that helps pass the time. Gardening is fun and easy, especially with the right tools. With society going stir-crazy, nurturing steady growth can bring a sense of productivity and accomplishment.
About the Writer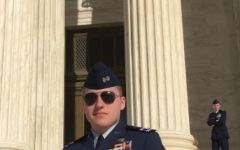 Anton Dahm, Copy Editor
Anton Dahm is currently a senior in high school where he demonstrates unwavering Spartan loyalty. He enjoys public service through Civil Air Patrol, where...