5 fast, easy gifts for when you forget to buy one
With all that is going on in our lives, none of us are exempt from forgetting a thing or two every once in a while. Sometimes, we slip up pretty badly and forget a birthday leaving us with little time to get a present. So while socks and gift cards are nice, they scream "I bought this five minutes ago!" But worry not, because here is a list of five great gifts that are quick to get but do not scream "I bought these last minute!"
1. Assortment of their favorite Candies
Who does not love candy? Find a small package of some of their go-to sweets, put it in a nice mug or cute bag and throw a bow on it. Not only is it super easy to throw together, it is also aesthetically pleasing.
2. Framed picture
If you're looking for something more personal and sentimental, a framed picture is a great option. Printing out a 4×6 picture at a convenience store costs roughly a dollar, and a nice picture frame does not cost much either. It is a great way to capture a memory and show you care. Target is a great place to look for some frames especially with their low prices! For an extra touch, you can decorate the frame or write a sweet message.
3. Blanket
A blanket is a super easy gift to get on short notice, and you can make it more personal by getting a blanket with their favorite colors or movie characters on it! Amazon has some great options with prices starting at $10!
4. Stickers
Stickers are such a fun gift to give, and they are so easy to buy because you can get them nearly anywhere! Dollar stores to online stores, you can definitely find the perfect set of stickers to gift. Try some on Redbubble where there's such a variety! If you want to do something more personal, try designing your own sticker and printing it off on sticker paper!
5. Movie night in a box
Just like the candy assortment, this is such a quick one to put together. Grab some of their favorite movies, some popcorn and other snacks, then find a fun box – perhaps a popcorn bucket – to put everything in. Just like that you have a movie night all ready to go! Now you not only have a gift, but an activity to do together too.
In a perfect world, we would never forget about birthdays and other gift-giving occasions. However, when the inevitable gift crisis arises, hopefully this list can save you the stress of not having a gift prepared. 
About the Writer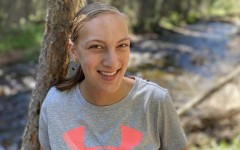 Elizabeth Pischke, Copy Editor
Elizabeth Pischke is an involved senior at Pleasant Valley High school, and serves as a copy editor for the Spartan Shield.  At school, Pischke is a member...