Best sitcoms to stream
Thanks to COVID-19, nothing in our world is normal: that includes the TV shows we watch. With Hollywood shut down and limited live TV shows, many people have turned to streaming services to satisfy their watching needs. Here is a list of the best sitcoms to stream while you wait for live TV to make its return!
1."Brooklyn 99"
First premiered on FOX in 2013 before switching to NBC in 2019, "Brooklyn 99" stars SNL alum Andy Samberg, Melissa Fumero, Terry Crews and Andre Braugher as cops working at Brooklyn's 99 precinct. It does a fantastic job of providing humor and giving an inside look at the life of police officers. At the same time it tackles heavy topics relevant to today's world in a mature manner, and is inclusive of the LGBTQ community. You can stream seasons one through seven on Hulu or Amazon Prime Video.
2. "The Good Place"
From the mind of Micheal Schur comes "The Good Place" which stars Kristen Bell and Ted Danson. Bell plays Eleanor Shellstrop who finds out that she has died and has ended up in the Good Place along with Jameela Jamil's Tahani Al-Jamil, William Jackson Harper's Chidi Anagonye and Manny Jacinto's Jason Mendoza. The shows follow the adventures of the group as they realize their situation is not as perfect as it seems and provides many laughs along the way. Stream all seasons on Netflix and Peacock.
3. "Fuller House"
This sitcom brings back some of our favorite characters from "Full House" and adds some new characters to create "Fuller House." The show tells the story of a grown DJ and her sons after her husband passes and her sister, Stephanie, and best friend, Kimmy, move in to help out. With the same loving, family feel, this sitcom brings equal amounts of laughs and sentimental moments that make it perfect for binge watching. Watch all seasons on Netflix.
4. "The Golden Girls"
While it may look off putting at first glance, this show follows the lives Rose, Dorothy, Blanche, and Sophia as they experience the highs and lows of their golden years. With all four ladies living together, chaos and clashing are guaranteed, however, the message of friendship is crystal clear throughout all the episodes which makes it a satisfying watch. You can watch all seasons on Hulu.
5. "Friends"
This list wouldn't be complete without "Friends!" The popular NBC series has left audiences laughing for over 25 years, and is not stopping anytime soon. Starring Jennifer Aniston, Matthew Perry, Lisa Kudrow, Courtney Cox, Matt LeBlanc and David Schwimmer, "Friends" shows the experiences and adventures of a group of friends living in New York City as they try and manage their young adult lives. With 10 seasons, binging this show is sure to keep you busy for a while. Stream this show on HBO Max.
About the Writer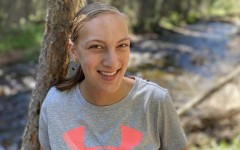 Elizabeth Pischke, Copy Editor
Elizabeth Pischke is an involved senior at Pleasant Valley High school, and serves as a copy editor for the Spartan Shield.  At school, Pischke is a member...