Comeback season: How the Athlete Development Project can save an athlete's career
For many athletes, a season-ending injury is one of the worst things that could happen to them. However, with new research, equipment and certified coaches, athletes can come back stronger than ever before.
Broken bones, torn ligaments and dislocated joints are often what can sideline athletes for the remainder of their seasons. In fact the National Athletic Trainer's Association (NATA) reports that upwards of 90 percent of student athletes suffer sports related injuries. Furthermore, NATA also published a statistic depicting that 54 percent of student athletes reported playing through an injury during a sporting event. 
In the Quad Cities, a program called the Athlete Development Project (ADP) has helped greatly decrease the chances of athletes receiving an injury while competing as well as put many athletes back on the field thanks to rehabilitation. 
On the ADP website, the program's mission statement is clearly outlined. "Provide the highest level of training in Sports Performance through an Olympic Development Program system using current research-based methods to improve performance," they state. 
Working out of TBK Sports Complex and other locations around the QC, the program consists of six highly qualified individuals ready to help injured athletes, but also those looking to prevent injuries in the long run. The coaches, Matthew Rokes, Jeff Rose, Keegan Horack, Paige Rettig, Zak White and Lane Kaczinski, are all highly regarded in the area as some of the best in the business by those who attend.
Senior forward for the PV Men's Soccer team Jack Thompson has nothing but good things to say about Rokes and his coworkers. "ADP has helped me regain a lot of strength in my knee. The program has helped me go from jogging to sprinting a lot easier than I thought it would be. Also, it is designed specifically for each person, so you work on things you need to improve on," he boasted. 
Although the workouts are tough, they provide the athletes with the strength they need to compete at the highest level. 
Despite not actively recovering from an injury, Senior Jacob Townsend spent most of his fall working out with the ADP crew and shed some light on how much more comfortable he felt thanks to the injury prevention methods taken by the program. 
"They do a great job of implementing injury prevention into the workouts. The workouts are based on the sport you play, so as a basketball player I focused on ankles and knees to have a lot more strength in those areas by the start of the season," he proclaimed. 
ADP continues to see more and more of a rise with participants. "I recommended ADP to all of my friends and teammates, I can't believe how much it has helped me," Townsend said.
With how much athletes have to worry about throughout their season, this year especially, it is great that they can seek comfort in the fact that they are less inclined to injury thanks to amazing training with the ADP.  
About the Contributor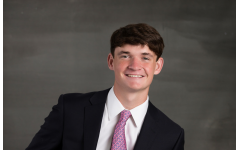 Alex Thorne, Business Manager
Alex Thorne is currently a senior at Pleasant Valley and will serve as the Business Manager for the Spartan Shield. Alex has a twin sister, Anna, who is...