Surge and suffer: Colleges face issues with varying applicant pool sizes
Many Ivy League, highly selective and state universities have seen a large increase in applications this year due to the test-optional policies put in place because of COVID-19. But with this increase in applicants, smaller colleges have faced the opposite problem: too few applicants. 
This problem has been highlighted by the COVID-19 pandemic because of the economic disparity and lack of resources given to high school seniors. Former provost of Middlebury College Susan Campbell Baldrige told The New York Times, "COVID didn't create this challenge, but it certainly exposes and exacerbates the risk that institutions face financially." 
Common App, a widely used general application platform, showed data for this year which showed a decline in lower-income students because of the application cost, as well as the decline in the applications to less competitive colleges. 
Senior Kat Goumas, who is still undecided about her college decision, expressed her struggles with applying for college this year. "Although PV has a google classroom designated for seniors, I wish our counselors would have guided us through the process more because I found myself struggling with applying to colleges and scholarships," she said. Goumas added she is thankful for the colleges' understanding of students' circumstances because of COVID-19.
PV guidance counselor Ellie Thomas didn't see much change in PV applications this year. "I've had more conversations with students who are considering community college before transferring to a four-year [university]. Overall, numbers are fairly steady," she stated.
Although there is a decrease in many areas, Common App reported an overall ten percent increase in applications through the program. The gap between the low-income applicants and all other applicants was increased this year due to the pandemic.
Many schools are facing funding cuts due to the wasted money used on enticing students to apply to their school. This issue is not at the universities' faults, but the impact of the pandemic. Many students want to stay close to home, while others applied to larger schools to take their one chance at being accepted into selective schools.
Not only are schools having financial issues, but many college applicants are also experiencing these troubles. The Common app reported that the gap between the low-income applicants and all other applicants was increased this year due to the pandemic.
Although many colleges are facing issues with the lack of applicants, more selective schools are having the opposite problem. Ivy League schools and other competitive universities have seen an influx of applications this admissions cycle.
Thomas believes the change in applicants may point to the lack of school visits. "I think many of our students who typically would have toured campuses last spring, summer and even fall did not have the opportunity, which delayed their process of selecting schools to complete applications. Or, some students applied to more schools because they had not been able to narrow their options prior to submitting applications," she shared.
Many schools are finding it difficult to gauge what students should be accepted with the removal of the SAT and ACT test requirements. Although this makes the admittance process more difficult, it opens up barriers to students that would otherwise be rejected. Many universities are considering the permanent removal of test scores to give students an equal chance of admittance. 
Goumas stated her opinion on the new test-optional policy. "I am glad that colleges have changed their policies temporarily because of the availability of testing. Colleges being more lenient on grades from last year is extremely helpful for those who are applying because our entire lives were impacted by the pandemic," she said.
With the ever-changing situation of the pandemic, students and colleges are both impacted financially creating a very different application and admittance process than in previous years.
About the Contributor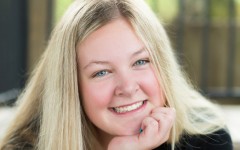 Kendall Jarvis, News Editor
Kendall Jarvis, senior, is the News Editor for the Spartan Shield. She is involved in dance after school and is a member of the National Honor Society....