Caffeine crutch: The thriving coffee culture at PV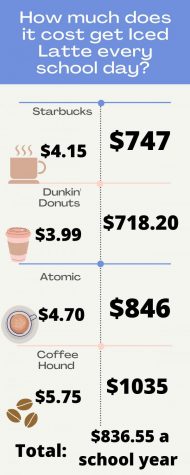 Most mornings, cars line up in front of coffee shops like Coffee Hound, Starbucks, Dunkin Donuts and Atomic so people can get their daily caffeine dose. This is especially popular among PV students, who  wait in long lines to grab their coffee or energy drinks to get enough caffeine to take on the day.
The caffeine crutch that students use to get through class can have harmful side effects. According to the Food and Drug Administration, 400 milligrams (mg) of caffeine is the maximum amount that a healthy adult should consume in a day. This is equivalent to about five shots of espresso or about one and a half iced lattes from Starbucks.
A daily trip to a coffee shop can be part of a student's morning routine. Teens get out of bed and find themselves at a coffee shop ordering their drink. In the hallways, people carry around cups from the various coffee shops surrounding the high school.
Senior Olivia Reddish goes to a coffee shop every morning to get her daily coffee. "I go before school, so I have energy to get through my day and it is just part of my schedule. I almost look forward to it," she shared.
Senior Raegan Stein is a barista at Coffee Hound. During the hybrid schedule she worked the morning shift and took orders. "There was always a group of teachers and students that would come in every morning, I almost expected them to drive through," Stein explained.
If a student gets an iced latte every school day, they could spend an average of $836.55 a year. If a student gets the same drink for every school day of their high school career, they could spend a total of $3,346.20. The cost of these drinks can add up quickly for students.
Students flock to coffee shops before and after school. They use caffeine to make it through the days of school, sports, clubs, homework and work.
Coffee and energy drinks can be a crutch for students to cover up a lack of sleep. Senior Reese Wendell goes to Starbucks almost every morning. "I always end up staying up late doing homework after work. I need coffee to make it through the next school day," explained Wendell.
Students can be drinking over the amount of caffeine that is recommended, but coffee is used as a tool for many students to make it through their day. Students can leave high school and still use caffeine as a coping mechanism. This "crutch" can lead to a caffeine addiction to follow a student for the rest of their lives.