Achieving excellence: 3 PV students earn Iowa scholarship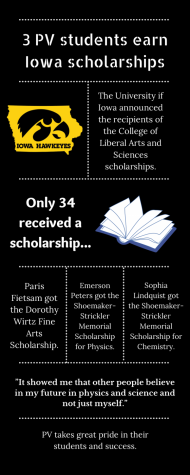 Senior year generally brings a significant amount of  stress for seniors about post-secondary plans  and the financial burdens that come with it. However, some of these stresses were lifted off  the shoulders of three PV seniors.
The University of Iowa (U of I) announced the recipients of the College of Liberal Arts and Sciences scholarships. Out of the thousands of incoming freshmen coming to U of I, only 34 received a scholarship in the College of Liberal Arts and Sciences. Out of those 34, three of them are PV students.
Seniors Paris Fietsam, Emerson Peters and Sophia Lindquist all received scholarships. Fietsam got the Dorothy Wirtz Fine Arts Scholarship, Peters got the Shoemaker-Strickler Memorial Scholarship for Physics and Lindquist got the Shoemaker-Strickler Memorial Scholarship for Chemistry. 
Peters is very thankful for this scholarship and finds herself feeling welcome by the school. "I felt super excited when I figured out about the scholarship because it showed me that other people believe in my future in physics and science and not just myself," she stated. "It made me feel really welcome at the University of Iowa and in the physics department there."
Lindquist feels relieved to have the financial burden relieved as well. "It was a relief to find out I had gotten it because I put a lot of work into my application and school in general. It was just nice to see it finally pay off and help decrease the financial strain of college a little," she explained.
There are many other scholarships that U of I gives out, and other PV students who have received them. However, these three students are the only ones who received a scholarship from the College of Liberal Arts and Sciences. With the number of incoming freshmen being so high, the odds of this achievement are low.
Fietsam feels very proud of herself after getting this exclusive scholarship. "It relieved some stress from me after seeing I got it," she expressed. "and I was especially proud after seeing how few people got one of these scholarships."
PV takes great pride in its students' success, and this is proof of the excellence that stems from PV. 
About the Contributor
Matt Mickle, P.V. Only Editor
Matt Mickle is wrapping up his senior year at Pleasant Valley High School before packing up his things and heading to the University of Iowa where he plans...