Division I dreams: Pleasant Valley athletes make the jump to college level athletics
Every year, thousands of high school athletes make the jump to play at the college level. While many consider the transition process difficult under normal circumstances, this past year has provided new challenges and opportunities for athletes. 
Despite the process being particularly difficult this year due to COVID-19, Pleasant Valley (PV) student athletes have found significant success pursuing collegiate athletics. Not only are there multiple athletes who have decided to continue their athletic careers at the division one level, the highest level of competition, but there are also many that have made the decision to compete at well-respected division two and three schools. 
Throughout the school's history, PV has produced a number of collegiate athletes who have gone on to find great success. In recent years, including this year, there has been an influx in the number of athletes, from a wide variety of sports, who have gone on to play in college. 
For most student athletes, the chance to compete in college athletics has been a goal many years in the making. Senior Ava Satterfield is one of a handful of athletes from the 2021 class who will be competing for a division one program next year. "Being a college athlete is something that I've always wanted to do, and knowing that I've put in the work to reach that goal is really rewarding," she stated . 
Deciding where to continue high school athletic careers is already a difficult choice for many, but this year made that decision even tougher because of the pandemic. "It meant that I couldn't take official visits so that made the final decision a lot more difficult," said Satterfield. Taking part in official in-person visits is often an important part of making the decision on where to attend school. They allow for athletes and their families to get a first hand account of what the campus and facilities are like. 
Instead of in-person visits this year, many colleges and universities have resorted to doing virtual visits. The virtual tours are set up in a way to provide the students with a similar experience to an in-person visit, but from the comfort of their own home. They allow students to get a sense of what the campus is like through videos and photos of the campus and are often guided by a university figure who serves as a tour guide. 
As each grade goes through high school athletics and hopes to have athletes compete at the next level, it seems that more underclassmen athletes are getting offers and attention from big name schools. 
Senior Seth Clausen believes that the PV programs will be left in good hands in the coming years. "The younger classes have proven that they have a lot of athletes with potential to compete for a wide variety of collegiate programs in their respected sports," he said. 
With past and present athletes setting the bar for the incoming generations, there are high hopes for many future collegiate athletes coming from PV. . 
About the Contributors
Nathan Lokenvitz, Multimedia Manager
Nathan Lokenvitz is currently a senior in high school and the Multimedia Manager for the Spartan Shield this year. Nathan is a proud member of the Spartan...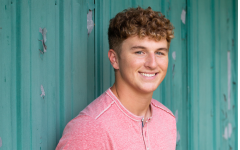 Seth Clausen, Photo Manager
Senior Seth Clausen is one of two photo managers for the Spartan Shield. In addition to his duties for the Shield, he loves being outdoors, hanging out...