Viva la Stool: How a small Boston Newspaper sold for $450 million and reimagined sports culture
$450 million. That is how much Barstool Sports, founded by Dave "El Presidente" Portnoy, was bought for by Penn National Gaming, Inc. in Jan. 2020. 
Barstool was not always worth hundreds of millions of dollars though. The site was founded by Portnoy in Milton, Mass. in 2003 and was originally a print newspaper. The company was popular in Boston, but not anywhere near its current popularity.
After gaining some traction in the newspaper business, Portnoy took the company to the internet by starting a blogging website. Bloggers like Kevin "KFC" Clancy and Dan "Big Cat" Katz assisted Portnoy in putting out content. 
Although the topics blogged were primarily about sports, the company expanded overtime and so did their different content areas. By 2012, Barstool had a big enough following from students around the nation that they held events for a collegiate tour across the country. 
Realizing that the site had so much potential, Portnoy made the move from Boston to NYC in July 2016. In a video shot in Times Square, he explained that the company was growing so much that he had to hire a CEO to help him run it, and that Erika Nardini was the only person with the ability to do such a thing.
The site was receiving thousands of views daily on their talk show "The Rundown," and also on their articles about pop culture, current events and sports. Portnoy kept Barstool on the cutting edge of media as they began to post on media sites like Twitter and Instagram once the applications hit the app store.
They currently have over 20 million followers across the two platforms, but also have other ways to reach their fans. The company gets millions of views daily on their Snapchat show, radio shows, podcasts and Youtube videos. 
Senior Lily Barrett, an avid Barstool fan, explained why she loves Barstool. "Barstool's content is geared for people like me. I love to watch sports, but also keep up with all of the drama in the news. Following Barstool for a few years has allowed me to do both exponentially," she said.
By the time 2020 rolled around, Barstool was at its all time high. There had always been discussion of them being bought out, but Portnoy always refused, claiming that he would only do it if it was good for the fans.
Senior Ceely Patramanis commented on how immense their popularity became during late 2019 and early 2020. "All of my friends were liking and retweeting posts from Barstool. Local high school students made Barstool pages for their respective schools. Everyone wanted in on what Barstool was doing," she expressed.
This is when Penn National Gaming, Inc. came around. Penn is a sports-betting company that allows customers to place live bets on games they are watching on TV. Seeing the following Barstool had in the sports world, they had to pitch Portnoy and Nardini an offer they couldn't refuse.
Upon accepting Penn's check for $450 million, Nardini shared with fans why she was so excited about the deal in a CNBC interview. "They had all the things we wanted. They wanted the Barstool Sports brand. They had the largest retail footprint in the United States, which will allow us to win in sports betting," she expressed.
Since then Barstool has not slowed down its growth. The company has expanded its talent by hiring former NFL star Deion Sanders. The podcasts have also taken off with shows like "Pardon My Take" and "Chicks in the Office," reaching millions of streams per episode. 
Fans are always curious what Portnoy is going to pull off next for the brand. Based on his precedent, many believe it would not be unlikely to see the company gain more popularity than the sports media powerhouse ESPN.
About the Contributor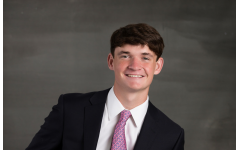 Alex Thorne, Business Manager
Alex Thorne is currently a senior at Pleasant Valley and will serve as the Business Manager for the Spartan Shield. Alex has a twin sister, Anna, who is...