Meet the press: Alyce Brown wins Iowa Journalist of the Year
Long after the final bell rings, one can often find senior Alyce Brown in room 167 working on "The Spartan Shield." 
Brown's hours of dedication to her publication cumulated into her being named the 2021 Iowa Journalist of the Year on March 16, 2021. In addition to the prestigious award, Brown was awarded $500 and a trophy and is now eligible to compete in the Journalism Education Association (JEA) Journalist of the Year contest on behalf of Iowa. 
To Brown, this award serves as encouragement and recognition for all of the work she has put into her publication, which has become more difficult due to COVID-19. "I'm so honored that the IHSPA deemed my work worthy of this award," she shared. "It has just solidified in my mind the importance of journalism in times like these and my determination to continue working in this field."
However, Brown winning this award did not come as a surprise to those who work with her. Adviser Maureen Dyer recognized Brown's talent from early on. "I remember reading the first review Alyce wrote for the Shield and thinking I was reading something from the New York Times," she expressed. "I knew early on that Alyce had a powerful voice that was begging to find an outlet, and I know that journalism was that outlet for her. This is her calling."
According to Dyer, Brown was a promising student when she first joined the journalism program two years ago — the only junior in a class of seniors. After spending a semester in honors journalism, Brown quickly signed up for publications to continue honing her skills and exploring the world of journalism.
Outside of the classroom, Brown continued her journalistic work by attending Northwestern's Medill Cherubs, a summer program for high school students to explore journalism in-depth. "I was able to take classes pertaining to every aspect of journalism from professors and professionals, which was such a great opportunity that helped me expand my understanding abilities so much," Brown said.
And Brown's dedication to journalism throughout her junior year and the summer before her senior year earned her the coveted Editor-in-Chief position of the print edition of "The Spartan Shield." 
Brown devotes her seventh periods — and beyond — to the publication: generating ideas, running a team meeting, editing each article while writing her own, working on design and layout and helping the staff with everything throughout the writing and editing process. "It is a huge undertaking that sometimes feels endless, but that's what I love about the nature of this position and this field," she described. 
Her hard work hardly goes unnoticed. "You can't be a strong journalist without passion, and Alyce has a whole lot of that. She is innovative, determined, unbelievably hard-wording, and wonderfully brilliant," praised Dyer. 
This perception of Brown is shared by both Dyer as well as Brown's staff, such as junior Allisa Pandit. "Working under Alyce has taught me so many things about journalism," she said. "She works so, so hard to make "The Shield" the best it can be. It is really inspiring."
Not only has Brown had a lasting impact on "The Spartan Shield," but journalism has had a substantial influence on her as both a writer and a person. She appreciates the excitement and hustle of journalism — the seemingly endless topics to write about, always something to be reporting on or overall, just some way to be involved.
"It has also helped me come out of my shell," Brown elaborated. "Journalism requires such strength of opinion and assertiveness, things that I always struggled with before but that being a journalist has given me."
This accomplishment is only a stepping stone to a promising career in journalism. Next year, Brown plans to attend Northwestern's Medill School of Journalism as journalism major with the hopes of becoming a reporter after she graduates. "I truly can't see myself doing anything else," she said.
About the Contributor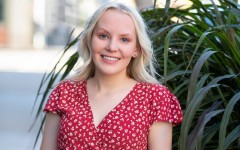 Ingrid Hofmann, Editor-in-Chief
Ingrid Hofmann is a senior at Pleasant Valley High School and serving as the Spartan Shield's Editor-in-Chief this year. She is a involved student, participating...