Top 5 things for a gentleman to do for a dance
PV has officially announced that they will be hosting a prom, and it is right around the corner. With the big day approaching, it is important for gentlemen to know how to treat their dates. Here is a list of the top 5 things for a gentleman to do to impress their date.
1 – Iron your shirt
One way to impress your date is to have an ironed shirt. It is a sign of formality and cleanliness. It also shows respect and shows one's knowledge of manners. An ironed shirt also looks better than a wrinkled shirt. 
2 – Hold the door
Another way to impress your date is to hold the door for her. It shows respect and gratitude for her. It is also a way to act more like a gentleman and to show her you care.
3 – Pick out the right tie
Picking out the right tie will 'tie' your whole outfit together. A good tie will also match you and your date together. Knowing how to tie a tie is also a way to impress your date.
4 – Wear clothes that fit
Wearing clothes that fit is a great way to impress your date. Wearing baggy clothes will make you look informal. Wearing clothes that are snug and fit will look cleanly and formal. 
5 – Have manners while eating
Having good manners at the table is a great way to impress your date. Good manners shows that you are caring, intelligent and proper. Having bad manners shows disrespect and improper formalities.
About the Contributors
Alex Clemons, Sports Editor
Alex Clemons is a senior and the Sports Editor for the Spartan Shield. Other than his duties as the Sports Editor, he loves participating in and watching...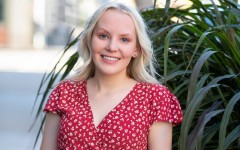 Ingrid Hofmann, Editor-in-Chief
Ingrid Hofmann is a senior at Pleasant Valley High School and serving as the Spartan Shield's Editor-in-Chief this year. She is a involved student, participating...