Maintaining an active lifestyle: The benefits of physical fitness prevail
Going to the gym for a workout might end up bringing more benefits than simply burning calories. Overtime, people find that participating in physical activity improves not only their physical health but many other areas of their life.
Although keeping a routine for physical fitness is difficult and timely, it teaches discipline and how to take care of one's health.
Continuous exercising requires a specific routine with time dedicated to it. For example, Tuesday: arms; Wednesday: abs; Thursday: legs. Not only does this teach one how to manage their time, but also how to create a self-made workout after evaluating what works the best for them. 
Once established, the routine takes discipline and determination to carry out each day. The daily decision of carrying out a self-made routine reveals all: either choose to lose priority for the rhythm or power through. 
Learning discipline, especially at a young age, helps the development of other professional characteristics, such as a good work ethic and service for others, as it is practice for taking action even when one is not feeling inspired to do so in the moment. 
Junior Rachel Karzin has been going to the gym daily since January and believes that her new habit has helped her in many ways. "It has really taught me how to manage and prioritize my time. I had to learn to get things done and sometimes wake up early just to get my workout in," she said. Being disciplined by one's own decision is vital in many aspects of life and is a respectable trait in professional atmospheres or relationships.
Staying physically active improves mental health as well, allowing people to channel their emotions into something positive. While exercising, one is able to gather their thoughts while simultaneously releasing them and calming anger or anxiety that they may have.
Jane Wheeler, PV gym teacher and cross country coach, values participation in physical activity and notices countless benefits brought from consistent, moderate weekly fitness, including brain activity which strengthens mental health areas.
"The brain chemistry and the hormones that are produced when you are active help you feel better [and] the physiological changes when you move actually help calm the body," she explained. "When you're active, often you feel good about the fact that you're active and you can physically feel stronger [which] then translates to feeling mentally stronger."
The effects in the social lives of those who participate in physical activities often goes unnoticed. In group activities, people can be encouraged or inspired by their community. They also might realize they are capable of more than they originally thought, which boosts their confidence level in themselves and in group settings.
Karzin began a fitness Instagram account to document her progress but found it to be a blessing in more ways than one. "My Instagram account has motivated me and kept me going. Although I never thought for it to be more than just my friends who followed, I have met so many amazing people who love fitness just like me," she said.
An unexpected community of over 900 followers has been built from her fitness journey, which she now can use to motivate herself and continue improving. 
Although it can be a difficult habit to begin, many would argue that it gets easier with every day. The benefits of fitness outweigh its challenges; self accountability and improvement are skills gained for a lifetime when practicing perseverance through a fitness routine, and mental and social health are heightened with every muscle that is strengthened.
About the Writer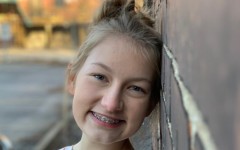 Beth Mooy, Infographic Manager
Senior Beth Mooy is the Infographic Manager for the Spartan Shield and is ready to make amazing infographics this semester. Mooy spends her time singing...