STEM successes: The real-world achievements of PVHS engineering students
Throughout high school, seniors Alex Melvin and Kole Sommer have aspired to study engineering at a top university. Starting freshman year, these two began their engineering journey with teacher Grant Housman. Housman, along with Matt Stutenburg and Brandan Tolle have helped many PV students continue their love for building and designing.
The PV engineering program begins with Intro to Engineering, which is designed to give students an introductory knowledge of all aspects within engineering. This class involves designing products on computers and giving students an opportunity to narrow down their interest within the engineering world.
The next class, Principles of Engineering, becomes more involved where hands on building becomes more prominent to prepare the students for the problem solving side of engineering. Sommer and Melvin are beyond this course and are currently in Problems of Engineering where they get to compete against local students in competitions.
Sommer, who plans to go into aerospace engineering at Iowa State University, is very thankful for the PV engineering program. "The Pleasant Valley engineering program has helped me so much, they take a more hands on approach and allow us lots of freedom while designing things," he reflected. 
Not only has Sommer had great experiences with the hands-on aspect of the class, but he believes it will help him down the road in his everyday life. "The program has helped me work through problem solving issues that arise during my life and obviously during engineering situations," he said.
This past week, Melvin and Sommer used the skills they have obtained over their high school years to compete in a trebuchet contest located at Bettendorf High School where they took second out of around 20 teams from Bettendorf, PV and North Scott high schools. 
This competition measured who could design the catapult to throw the eggs most accurately  and furthest. To complete this task, the group of students had to keep the building materials and cost under a certain amount; there were additional constraints as well. Sommer and Melvin's trebuchet ended up being north of six feet tall and was built out of wood. In total, the building process took seven hours to design and eight hours to actually build the model.
Melvin enjoyed the Trebuchet competition a lot and believes it was a great learning experience. "I had a lot of fun and learned a lot in the process of building the trebuchet. I'll be able to use the same skills later in my engineering career, he commented.
Sommer and Melvin have both enjoyed their experiences in the  PV engineering program and are glad they had the opportunity to start their engineering career under the guidance of Housman, Stutenberg and Tolle. Because of their experiences, they both have a passion for building and designing and hope to be very successful next school year at Iowa State University. 
Sommer is hoping to work for a company such as NASA or SpaceX when he graduates college. Melvin has decided to pursue mechanical engineering, hoping to eventually work for an automotive company. 
Thanks to the help of the teachers and staff who helped them out, these two will one day look to change the world with the building and problem solving skills they have built up. 
About the Writer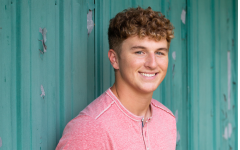 Seth Clausen, Photo Manager
Senior Seth Clausen is one of two photo managers for the Spartan Shield. In addition to his duties for the Shield, he loves being outdoors, hanging out...