Top 5 pieces of literature from English courses
To Kill a Mockingbird – Harper Lee
To Kill a Mockingbird, written by Harper Lee, is a novel that tackles issues of race and prejudice in the deep South during the Great Depression. It was published in 1960 in the midst of the Civil Rights Movement. Lee's novel won the Pulitzer Prize and has been widely read in high school and middle school English courses around the country.
2. Lord of the Flies – William Golding
Lord of the Flies, written by William Golding, is a dystopian novel about a group of British boys who get stranded on an island and work to govern themselves to survive. The novel highlights human nature's violent tendencies and tribalism when trying to survive. Golding was awarded the Nobel Peace Prize for literature in 1983, but her novel has been put under controversy because of foul language and violence that may be inappropriate for younger audiences.
3. Of Mice and Men – John Steinbeck
Of Mice and Men, written by John Steinbeck, takes place during the Great Depression in which two workers' friendship is tested in their search for work. Throughout their journey, readers learn about the strength of friendship and the acts that humanity does out of fear. Steinbeck won the Nobel Peace Prize for literature in 1962, and the novel continues to be read in high schools around the country.
4. Romeo and Juliet – William Shakespeare
Shakespeare's Romeo and Juliet is a tragic love story in which the deaths of two star-crossed lovers ultimately bring their feuding families together. The story emphasizes the inevitability of fate and rebellious love of two people. It is one of Shakespeare's most popular plays and is widely read and performed in high schools all across the country.
5. The Great Gatsby – F. Scott Fitzgerald
Written and published during the roaring twenties, The Great Gatsby is a love story that involves a mysterious millionaire trying to recapture the past but also emphasizes the false notions of the American dream. Many high schools read this novel, and it allows students to question values in a capitalist society.
About the Contributors
Sid Sharma, Feature Editor
Sid Sharma is a senior and Feature Editor of the Spartan Shield Online. Sid has been heavily involved in school activities that require public service,...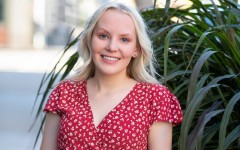 Ingrid Hofmann, Editor-in-Chief
Ingrid Hofmann is a senior at Pleasant Valley High School and serving as the Spartan Shield's Editor-in-Chief this year. She is a involved student, participating...