So long, farewell: The end of a beloved nurse's career
Pleasant Valley High School has been blessed by having some amazing staff spend their career helping students. Perhaps the best example of this is when school nurse Pam Cinadr began her career keeping students healthy in 1996.
Unfortunately for students though, Cinadr is hanging up her white coat and stethoscope after this school year for retirement. Having been in the nursing profession since 1975, Cinadr has quite the rap sheet.
To earn the title as a nurse, Cinadr attended Lorain Catholic High School (OH), Providence Hospital School of Nursing (OH) and finished her nursing degree at the University of St. Francis (IL).
Before her time as a school nurse, Cinadr gained 21 years of critical care experience in the emergency room, operating room as well as in three intensive care specialties.
Always putting others before herself, Cinadr worries about the future quality of care from nurses at the school. "Will the person taking over for me know who needs a hug, or just someone to listen to them? Will they be able to help the kids that struggle at home and give them the support they need?" she said.
Cinadr was not only loved by students, but also by the countless members of PV staff she has worked with. From teachers, to principals to paraeducators, they all had good things to say about their time with her.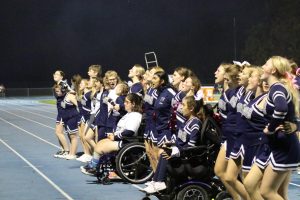 Assistant Superintendent and long time Principal of Pleasant Valley High School Mike Zimmer shared words about kind of the heart Cinadr has . "She was instrumental in supporting Sara Cronk, Sara Herr, Kamryn Huffman, Jenna Lehman, and Brenna O'Neill to establish the Sparkles Cheer squad," he said.
The Sparkles program has gone on to be a great source of inclusion for students with special needs and disabilities. Had it not been for the willpower of a great person like Cinadr pushing students to make changes in their community, who knows if the program would have ever started.
Along with being an amazing role model for students, she is also credited with saving the life of former Pleasant Valley athlete Brett Greenwood when he collapsed during a workout at Spartan Stadium in 2011. 
Greenwood had gone to his alma mater to get a quick workout in before the football game that evening, when around 3pm he collapsed.
Zimmer explained how great it was to have a nurse like Cinadr on hand. "While we kid about it today, Ms. Cinadr was phenomenal responding to Brett Greenwood's collapse on the football field. Running as fast as she could in her flip flops and me trailing behind with the AED, she and Jason Viel worked tirelessly to revive him," he said.
From starting programs for students who need some extra love, saving lives and just offering an open ear to listen to those who are struggling, Cinadr has been one of a kind.
One of only two nurses in the history of Pleasant Valley High School, her presence will certainly be missed. Those who had the pleasure of visiting her during the day would remember her grace, but also her sternness towards those trying to cut class.
While the transition into retirement will certainly not be easy, Cinadr is trying to have a positive outlook, "I have such mixed feelings about retiring, but it is time. I will miss so many of the kids. I have formed close relationships with so many students over the years, many of which I still (and will hopefully continue to) keep in touch with," she proclaimed. 
As her role as an advisor to tomorrow's leaders comes to a close, she offered some final guidance to those who will one day walk the halls she did. "Don't let what one person says ruin your day. Choose your friends wisely, you don't need a huge group of friends, just a couple of people you enjoy spending time with and can trust is all you need!"