10 dorm essentials you must have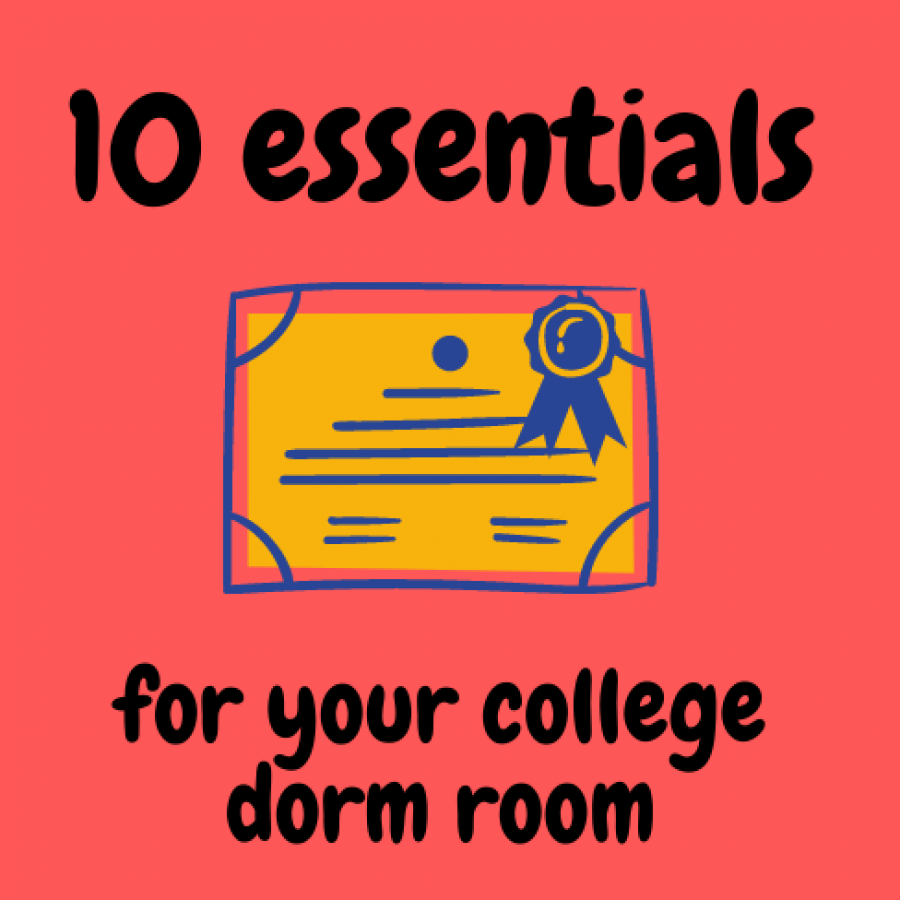 With a new school year around the corner, a new class is joining college. With that, many are living without their parents for the first time and there is a lot to remember when choosing what to take with them. Here are 10 items you must bring with you to your college dorm!
Fridge

Every dorm room needs a fridge for you and your roommate to store food in. With busy schedules of school work and extracurricular activities, having a fridge handy with food is always helpful to college students. Check with your roommate to see who will be bringing this to the dorm!

Microwave

This is another essential for the college dorm room. When nights are tight, microwave food is always the easiest for students. Usually, one roommate brings the microwave while the other roommate brings the fridge. Make sure to plan with your future roommate who will bring what.

Shower slippers

Especially in your freshman year, when students usually live in a communal space, these flip flops are an absolute necessity. The shared bathroom showers are not the cleanest and these slippers will protect you from infections transmitted through the feet.

Shower caddy

Usually your communal shower is not right next to your dorm room. A shower caddy with your soap, shampoo, toothbrush and more can be really useful to you in the long run. Instead of having to take everything individually to the bathroom, one caddy with all your materials is a time saver.

Desk lamp

In college, there are many late nights of studying. You and your roommate may not have the same sleeping schedule though, so a desk lamp is really useful when you need to turn the lights off in your room.

Fan

Not all dorms have air conditioning, so a fan is a necessity during the fall and spring. Even if dorms have air conditioning it may be useful to have a fan if you and your roommate have different preferences for room temperature. You can choose to bring a big or small fan depending on how cool you like to feel.

Laundry Detergent

College dorms have washing machines and dryers for students, but students must bring their own detergent. Many times it is most easy to bring detergent pods to use as you just have to throw them in the machine and there are no other hassles.

Bedding

When you arrive at your dorm, you will find a mattress for you to use but nothing else. You will want to bring your own pillow and sheets/blankets to use. It is said that mattresses from colleges are not very comfortable so make sure to have comfortable bedding materials to make up for that.

Rug

Many dorms do not have carpets, so rugs are nice to keep your feet warm during cold months. One rug is enough for you and your roommate, so make sure to plan who will bring it. Additionally, the rug makes the room feel more comfortable and nice to live in as it will bring more color to the room.

Futon

Though this may not be on top of your priority list, this is a nice thing to have in your dorm room. Instead of having to sit down at your desk chair or on your bed when you want to chill, this futon is nice to have when you want to relax. Plan with your roommate which one of you will bring the futon though because there is only space for one in most dorm rooms.