Year after year: Pleasant Valley Girls' sports dominates competition
The Pleasant Valley Girls' sports programs have a successful reputation in almost every sport leaving junior classes with big shoes to fill on a regular basis. The class of 2020 had successful seasons during the ones they were able to compete in such as making it to state in volleyball and softball.
Multiple sports that the class of 2020 was looking forward to ended up being canceled. Soccer, along with track and field were shut down due to the pandemic spreading across the nation. This left the juniors eager to get back on the field and track for their senior year.
Throughout the 2020-2021 school year, Pleasant Valley girls sports have dominated the competition from Volleyball, being one of the first sports, to softball being the last of the year. So far, the girls' sports program has sent their volleyball, swimming, track and field teams to state. 
Senior Emily Wood has had tons of contribution to girls sports throughout her career at Pleasant Valley high school. Wood is truly a jack of all trades, currently playing four sports including basketball, softball, track, and volleyball, she has helped lead the teams to many wins. 
In softball, Wood has been a varsity starter for five years now, she began her eighth grade year and has continued to shine as a team captain and three time all state center fielder. Wood's athleticism is unmatched when it comes to the basketball/ volleyball court as well.
After being a big piece of Pleasant Valley volleyball's big run at state, Wood decided she would give basketball one more shot after not playing for three years. Instantly, she proved herself to be dominant on the offensive and defensive end of the court. She was the second leading scorer for the Spartans and racked up the rebounds, coming in third on the team. 
Wood explains how much the shutdown of some sports during the COVID-19 pandemic really had an impact on the class of 2021 girls sports teams. She says that "the cancellation of those sports made everyone involved much more motivated to go and compete this year, but also work that much harder in the offseason." 
Wood believes that the class of 2021 has set a great example for future classes who will hopefully continue to raise the bar or "carry the shield" as the Pleasant Valley girls track team says. "The work that all of us did as a group has really reflected in our successes this year and I couldn't be any more proud of my teammates." Wood said. 
After wrapping up a long and successful career, Wood will go on to play softball for the Cyclones of Iowa State University. According to coach Ryan Arnold of Pleasant Valley Weight training, "Wood will continue to see improvement in all aspects of her game because of the amount of work she puts in during offseasons." Emily will go down in history as one of the best females of all time in the Pleasant Valley school district.
About the Contributor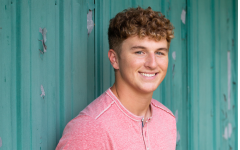 Seth Clausen, Photo Manager
Senior Seth Clausen is one of two photo managers for the Spartan Shield. In addition to his duties for the Shield, he loves being outdoors, hanging out...