Putting makes perfect: PV girls golf pursues state competition again
Beth Mooy, Info Graphic Manager
April 22, 2021
The PV girls golf team has remained victorious after placing first in their first and second meets, despite the rainy forecasts. This has left them with the encouragement and confidence to continue pursuing opportunities to compete at state golf.
The top six varsity players competed in the first meet. Erika Holmberg, junior, was the top scorer with 36 strokes followed by junior Lizzie McVey with 38. They were joined on the course with senior Ceely Patramanis, juniors Lily Dumas, sophomore Maura Peters and freshman Isabella Steele.
Peters, a first year varsity member, has been golfing for the past eight years. She originally planned to golf for PV last year, but was unable to as a result of the pandemic. She has been enjoying this season and appreciates the diligence required of every teammate and coaches Mike Nedelcoff and Sean Kingery.
Peters takes the advice given to her to help her improve. "Coach Nedelcoff likes to give each of us one thing to work on, rather than throwing a ton of tasks at us," she explains.
Nedelcoff has been teaching the game for 40 years as a PTA professional. He is optimistic about the possibility of another state qualification, knowing that the girls will need to continue bringing their mindset to practice of giving it their all. 
"From players one through 19, they are all focused at practice, have a good time, take it seriously and are working every day to get better," he stated.
Nedelcoff utilizes the same techniques for the high school competitors as we would for a PTA professional.
"We focus through a lot of drills [and] work on fundamental skills," Nedelcoff explained. "The girls never work on more than one or two minor things at a time because it's too hard a game to try to tackle anything more than that."
The team meets every day after school for two hours to prepare for their next meet. Commitment and dedication are required from each member of the team. 
Dumas golfed for PV during her freshman year in addition to this year and appreciates the team's constant drive for improvement. "During practice we do drills to improve our putting, work on different chip and pitch shots and work on our full swings," Dumas said. "This year our goal is to get to state and put a score low enough to compete."
These golfers are working around the clock, always trying to beat themselves at their own game.
Peters acknowledges the challenges that come as the season continues and seeks to overcome them. "I think we all know that the best way to save strokes as a team and to get to state is by improving our short game and staying confident on the course," she said.
Having confidence in oneself and their team is vital to the success of the mission as it pushes each person through no matter how they had previously performed–and when it comes to the meet itself each putt matters.
About the Contributor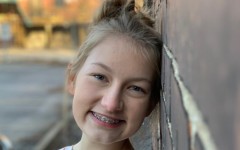 Beth Mooy, Infographic Manager
Senior Beth Mooy is the Infographic Manager for the Spartan Shield and is ready to make amazing infographics this semester. Mooy spends her time singing...