Viewer discretion is advised: Top 10 scariest YouTube videos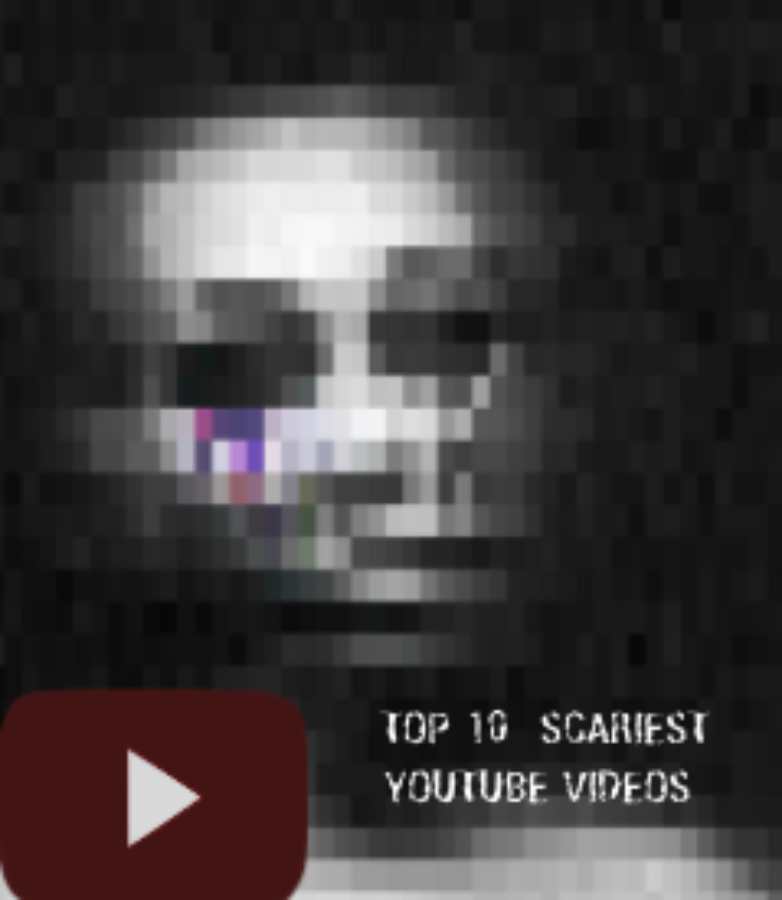 Heath Rice, Arts and Entertainment Editor
October 12, 2021
For those who are looking for more than the traditional horror film, YouTube is a treasure trove. There are hundreds of strange and terrifying clips to make even the most hardcore horror fan shiver. This list of top 10 is filled with creepy, unsettling and bizarre short films. 
Some use loud noises and flashing lights, others use traditional jump scares and grotesque monsters. One thing they all have in common is the ability to make you want to keep the lights on. Viewer discretion is advised.  
Unsettling Photos That Feel Familiar (12+)

https://www.youtube.com/watch?v=VqZEfqoTA7M&t=48s
These unsettling collections of still images create a question in your mind: "Have I been here before?" The collection of images feel familiar and the disturbing music adds a layer of uncertainty as you watch them. There are hundreds of images in these compilations, and millions of viewers claim the places seem disturbingly familiar. 
Animated Horror Stories  (12+)

https://www.youtube.com/watch?v=2rLkVZ9GHCg
These audio stories are given an extra layer of horror with the 2D animations added by online editors. They take popular Reddit and Creepypasta stories and create a visual show to go along with the story. These videos are short and are highly enjoyed by those looking for an unsettling story before bed. 
Crypt TV  (13+)

https://www.youtube.com/channel/UCpJ6Dn01AqjvFVN2EiK72Ag
Crypt TV is an online service that specializes in short horror films, With NUMBER million subscribers they range from gory slashers to psychological thrillers. These short five to 15 minute films are not only disturbing, but their photography and costumes are very high quality.  
Don't Hug Me I'm Scared (15+)

https://www.youtube.com/channel/UCZOnoLKzoBItcEk5OsES2TA
This series starts all of its videos with a sense of childlike innocence, taking the aura of a children's puppet show. Towards the end, the videos take a turn when disturbing sounds, images and men in bodysuits replacing the puppets join in. This series' usage of disturbing sounds and eerie bodysuits gives it an uncomfortable and bizarre viewing experience. 
Battington  (14+)

https://www.youtube.com/channel/UCUYWD-LKkslceEK0hDBnlzA
This YouTube channel mainly focuses on making disturbing and short 3D animated sequences. Most of the videos revolve around disturbing and disheveled animatronics. All of the videos are more than they appear and seem to lead one another. The flashing lights and strange subtitles give it a mysterious story plot with a disturbing execution. 
Possibly in Michigan (16+)

https://youtu.be/iLJNSD3H5sg
This 11-minute music video is nothing short of unsettling and confusing. The video focuses on two girls and their daily trip to places like the mall and a ballroom. Along with the horrifying music and creepy tones, a strange man is seen in the background. One of the songs has recently been re-discovered on TikTok with the sound reaching millions of viewers. The story itself is uncertain and completely up to the viewer's discretion. The scariest part of this video is the suited man with glassy eyes and a bent jaw, a permanent scream towards viewers.
I Feel Fantastic (13+)

https://www.youtube.com/watch?v=rLy-AwdCOmI&list=PLSaEi3pbxD_tFKNI67UKCy91jqTACgDBC&index=2
A found-footage favorite, "I Feel Fantastic" revolves around a large animatronic woman, Tara singing "I feel fantastic." The singing is warped and high pitched which makes you feel the urge to look behind your back. There has also been speculation about the clothes the doll was wearing and a mysterious video shot of the woods in the film. This three minute video has sparked countless fan investigations as well as hours of YouTube lore and theories. The only thing guaranteed is you won't feel fantastic watching this at 2 a.m.
The Mandela Catalogue (13+) 

https://youtu.be/C8d12w6pMos
The story behind the catalogue is the tapes are a collection of public broadcasts warning citizens about mysterious doppelgangers. The videos take a weird turn when the feed begins to glitch and the duplicates attempt to take over your mind. The details and feeling of fear you get while watching these almost make it feel interactive. 
FNAF VHS (16+) 

https://www.youtube.com/channel/UC8hpTLJ2F5nY8IbiH_QvNgg
This collection of VHS tapes based on the hit video game Five Nights At Freddy's is a grotesque masterpiece horror fans shouldn't miss. The tapes stay accurate to the stories' hours of lore and they add interesting spins and twists on the classic animatronic gang. There are hundreds of short clips by famous YouTubers such as Squiimpus McGrimpus and Meme Bear.
Walten Files (16+)

https://www.youtube.com/c/MartinWalls
This unsettling collection of short clips focuses mainly on the usage of flashing lights, screaming, and eight-foot animatronic killers. There are currently three full videos with the largest being an entire hour long. The videos all build on one another, and the story is deep, disturbing and intricate. The story revolves around the Bon's Burgers and the horrors that occurred within its walls. Anybody who is a fan of found footage and dark mysteries will fall in love with Walten's mysterious animatronics and the spirits that inhabit them.
No matter where the videos placed on this ranking they all bring a unique layer of horror. All of these videos are free to watch and fully accessible for anybody with a Youtube account. Just make sure to keep on the lights.