Poor execution: The misrepresentation of Indian-Americans on TV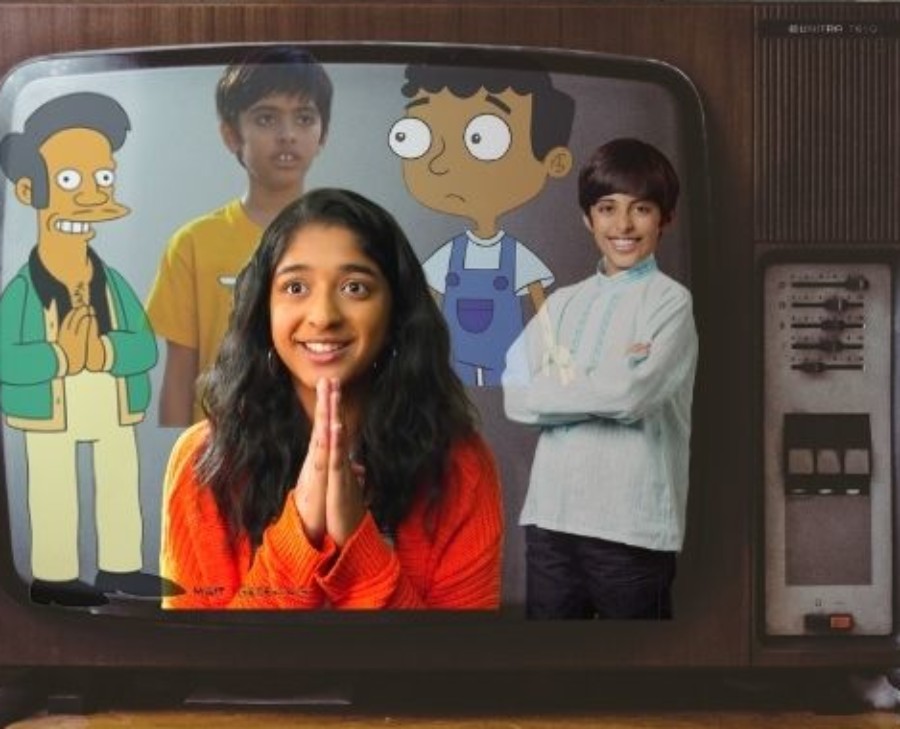 The representation of Indian-Americans in television has always been few and far between. On the rare occasion that a show starring an Indian-American gains traction, the ignorant stereotypes that are perpetuated take away from its authenticity. 
Because of this, Indian-Americans have long been forced to contemplate, "Is misrepresentation better than no representation at all?"
Representation matters—the American population is comprised of four million Indian-Americans, yet this demographic is not proportionately represented on screen. Representation makes the experiences of a large portion of the American population visible and normalizes the inclusion of other cultures into American society. The entertainment industry holds this power in the form of representation to influence perceptions of different cultures— perceptions that can last a lifetime. 
One of the first characterizations of an Indian-American on screen was Apu Nahasapeemapetilon from the hit TV show "The Simpsons" (1989—). For many years, the face of Indian American culture in American TV was wholly represented by this one dimensional character that exemplifies all that is wrong with "diversity" in the entertainment industry. From his obnoxiously long last name to being voiced by a non-Indian actor who speaks in an exaggerated accent, Apu is a caricature of Indian stereotypes. 
Growing up in the 2010s, children of Indian immigrants turned to different forms of media to reconcile their experiences with those of their parents. For Indian-Americans, TV shows from that era are remembered for their half-hearted attempts at inclusivity of their cultures. 
"Jessie" (2011-2015) was the first Disney Channel show to cast an Indian-American as a series regular. In the show, Ravi's (Karan Brar) portrayal as an unathletic, nerdy boy included for comedic relief often goes unperceived by young audiences. Although Brar was born and raised in the United States, his character took on the role of an outsider as a result of his exaggerated Indian stereotypes. Ravi's traditional Indian kurtas, heavy Indian accent and seven-foot pet lizard work together to highlight his exoticness, further depicting Ravi as a foreigner in his own country. 
Ravi from "Jessie" is not an outlier. The same actor assumed the cookie-cutter Indian American role in other TV shows and movies as well, including "Diary of a Wimpy Kid"  (2010-2012) and "Jessie" spinoff "Bunk'd" (2015—). In the "Diary of a Wimpy Kid" series, Brar's character Chirag Gupta is the object of mockery for being ethnically different, short in stature and nerdy. In "Bunk'd," Brar plays an older version of Ravi, still clinging on to his outdated stereotypes.
Brar was not the only Indian-American in Hollywood. He alone did not encapsulate the entire Indian diaspora with its various subcultures, language dialects and traditions. Hollywood's repeated casting of the same actor to fulfill its stereotypical roles only left audiences feeling lost and misrepresented. Indian-American audiences had no choice but to settle for characters like Ravi and Chirag, who were glaringly inaccurate but a form of representation nonetheless. 
The unforeseen consequences of characters like these have had long lasting effects on Indian-Americans. Although characters like Ravi and Chirag may seem harmless to the target audience of adolescents, research shows that over time, comedy evolves into convention, normalizing derogatory racial stereotypes. What originated as comedy in children's shows has become a mechanism for ignorant encounters with non-Indian-Americans.
Junior Pranav Suresh has experienced the adverse effects of inaccurate depictions of Indian Americans, especially in TV designed for children. "I think I speak for most Indian Americans when I say I have faced my fair share of Baljeet and Ravi jokes," he said.
"Looking back, I can see clearly now that this stems from the way Indian Americans are portrayed in children's TV shows and movies. People always assume that every Indian American is smart, unathletic and awkward, but that's not the case for everybody," Suresh continued. "These barriers are hard to break out of when people are fed these stereotypes from a young age—a time when people are just starting to form their perceptions of the world."
In recent years, the landscape of TV has changed significantly. The TV industry has made great strides towards increased representation of Indian-Americans and characters like Apu, Ravi and Chirag live on to serve as a reminder for how people's attitudes have shifted. 
"Never Have I Ever" (2020—) stood out as one of the first accurate depictions of the first-generation Indian American experience. The Netflix original, written and produced by Indian-American actor Mindy Kaling, follows the story of Devi Vishwakumar grappling with her Indian-American identity while battling typical teen struggles. 
"Never Have I Ever" has been met with tremendous success, with a 95 percent rating on Rotten Tomatoes and overwhelmingly positive responses from Indian-American audiences. Shows like "Never Have I Ever" prove that when stories are created for Indian-Americans, made by Indian-Americans and star Indian-Americans, the end product is far more authentic.
Senior Tanisha Nanisetty has resonated with the farm-to-table production of the show. "'Never Have I Ever' is a win for the Indian American community," she stated. "Until this show, I had yet to see an accurate portrayal that didn't do more harm than good, and I think that's primarily because of Mindy Kaling's ability to draw from her own experiences as an Indian American." 
Changing the pattern of misrepresentation of Indian-Americans in TV must originate in the writer's room in order to be properly executed on screen and appropriately received by audiences.
Better representation of Indian Americans is long overdue, and the TV industry is just beginning to show signs of progress.