Bettendorf-born star shines on Broadway as theaters reopen
PV alum Samatha Pauly has gone from Bettendorf to Broadway in her theatre career.
At PV, she had great success, from being in the Iowa all-state choir for two years to being cast as Velma Kelly in her senior year musical, "Chicago,"  but it did take her a while to start participating in the school's drama club. 
Current Director of Theatre and Drama Choreographer, Christina Myatt, explained, "Sam did not audition [for any school show] until her junior year, When she completed her audition for 'The Pajama Game,' we said, 'Where have you been?!'"
After a successful high school career in theatre and graduating in 2008, it was to no one's surprise that Pauly decided to pursue a B.F.A. in musical theatre and a minor in dance from Viterbo University in La Crosse, Wisconsin. Many characterized Pauly as a person who has an undying work ethic and drive to ensure she could become a working actor.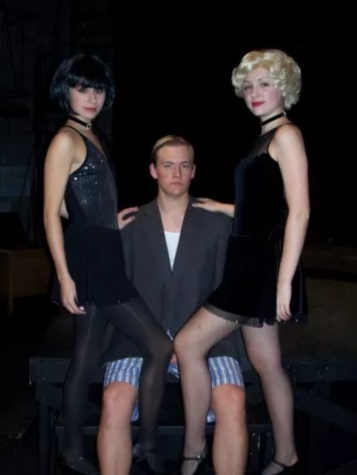 Working in the industry after her college graduation presented Pauly with great success, but also great challenge. There were spans of time where she would be receiving job after job, but at times, she was left unemployed for months. Through all of these hills and valleys, she continued to pursue her passion.
For Pauly, 2019 was a stellar year. She was cast as Katherine Howard in America's first production of the new show "SIX" that had already taken the UK by storm.
The musical, set in a pop concert style, introduces King Henry VIII's six ex-wives as they try to one up each other and decide who had the worst experience with their common ex-husband. Pauly plays Howard, the fifth queen, who after being belittled by the other queens, shares her story filled with many suitors, emotional trauma and a beheading.
It is practically unheard of for a musical opening outside of New York to move to Broadway with its entire original cast. But ever since the American debut of "SIX" in May of 2019 with the Original North American Tour, Pauly, just like her other five co-stars, has been with the production. 
Few actors can say they have originated a role on Broadway, but now Pauly can. "We were given a lot of liberties during rehearsals when we first started in Chicago in 2019.  The show's creators, Lucy Moss and Toby Marlow, made it very clear that they wanted us to bring our personalities to the characters because that's why they hired us in the first place," she said about the development of her take on Howard. "So that made it much easier to put our own spin on things, and it also eliminated the pressure to be like the women in the UK who originated the roles on the West End." 
Pauly took a small hiatus from "SIX" in the summer of 2019 after being hand-picked by Andrew Lloyd Weber and Jamie Lloyd to star as Eva Peron in a revival of "Evita" performing at the Open Air Theatre on the West End. 
After a successful run in "Evita," she returned to her role as Howard to prepare for her Broadway debut.
Initially set to open March 12, 2020, at the Brooks Atkinson Theatre, the show was delivered the devastating news that same afternoon that Broadway was shutting down in a matter of hours due to the COVID-19 pandemic. Two postponements and 18 months later, "SIX" had its Broadway opening night on Oct. 5, 2021.
"Opening night was incredibly exciting and nerve wracking. I didn't know it at the time, but I was battling walking pneumonia and not feeling great, so I felt very nervous," Pauly described. "But I was so thrilled to have my parents and my sister there to see the show on Broadway for the first time.  It was also very relieving to finally open after 18 months away." 
Through the months of the unknown during the pandemic, Pauly maintained her training and determination, and her dream of being on Broadway never faltered.
To all the aspiring actors out there, Pauly offered some words of advice, "You are always exactly where you are meant to be; what is meant for you will not pass you by.  You can't give yourself a timeline, otherwise you will never stop comparing your journey to someone else's.  Work hard, be kind to everyone, and always remember why you started doing theatre in the first place."