More than social clubs: How sorority life helps college students build a foundation for their future
"Paying for friends" and "popularity contests" are phrases often used when describing sororities. However, there is so much more to these Greek communities than meets the eye.
Even though Greek life is a very well-known aspect of universities, many people who have not experienced it themselves know little about the true meaning and value behind being a member of a sorority. Each panhellenic chapter (such as Chi Omega, Zeta Beta Tau, Kappa Kappa Gamma, etc.) carries their own set of values and qualities that they seek out during recruitment.
All sororities carry common values of academics, philanthropy, leadership, belonging and engagement, but each chapter has their own focuses. PV Alum Ceely Patramanis is a member of the Beta Zeta chapter of Kappa Kappa Gamma at the University of Iowa and listed their values. "In Kappa Kappa Gamma we value dedication, loyalty, and community as well as 'dreaming boldy and living fully,'" she shared.
Patramanis also discussed how those values reflect some of her own. "The values align with mine perfectly and were a large part of my decision to join KKG. I love being in an organization that supports and encourages me to be the best person I can be," she mentioned.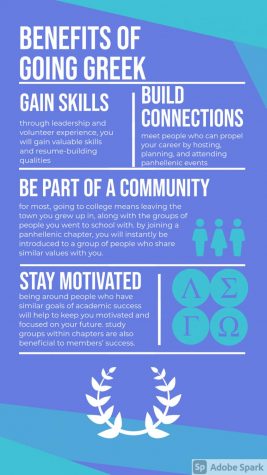 While social sororities like KKG are the most popular at large universities, many smaller universities feature a different option called service sororities. Service sororities focus mainly on volunteering and allow their members more flexibility in terms of time dedication. Even though they may focus mainly on service, these sororities still carry individual values.
PV graduate Abby McKay is a member of Epsilon Sigma Alpha, a service sorority at Augustana, and chose this specific group based on their focuses. "ESA's values align with mine pretty well. It's the reason I looked into it at first. Education and service are important and good things to invest in," she shared.
The volunteer experience that comes with being a member of a sorority – social or service – will prove to be highly beneficial in the future endeavors of its members. Many other aspects of being part of Greek life, such as building relationships and gaining leadership skills, will also support members in their professional lives.
McKay and Patramanis both commented on what they have already gained/will gain from their experiences in sororities, and Patramanis was mainly focused on the connections that her chapter has given her. "Through any sorority, you can meet and connect with so many people. It's going to be very helpful in the future to have many people to reach out to. I would also say that our philanthropy (mental health awareness) is very beneficial in numerous ways, so I am glad to have that direct connection," she said.
McKay is excited to have support in her education and building her resume while in college. "I think ESA will teach me a lot of things that I can use in the future. The educational sessions will be good because I'll learn things that I won't learn in the classes for my major. I also think that it will give me good opportunities to volunteer and learn more things that way. These experiences will help me grow as a person and be a good addition to future applications and resumes," she shared enthusiastically.
While making friends is a great aspect of joining a sorority in college, there are countless other benefits, including valuable experiences which will lead to successful futures for members. Finding a group of people whose values align with theirs and who motivate them to be the best version of themselves is one of the most important things a college student will do before graduation, and Greek life creates the perfect opportunity for exactly that.