Pushing the boundaries: Cameroon student defies adversity at American high school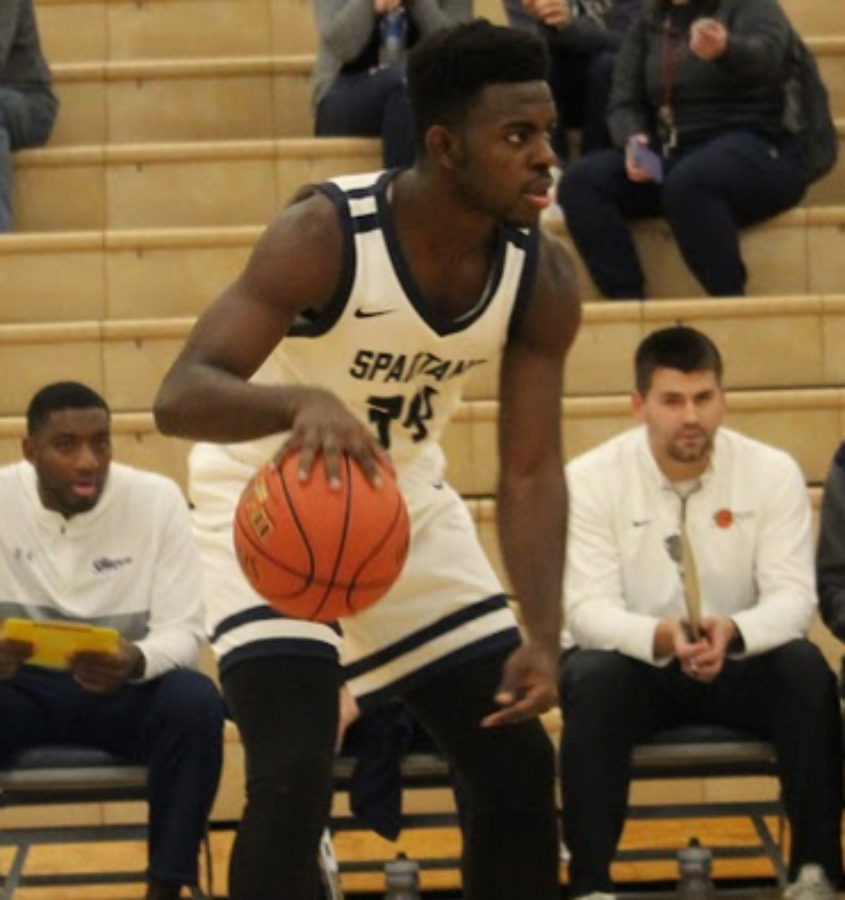 Jumping out of one's comfort zone is crucial in order to prepare for life's challenges and create opportunities for oneself. One student and his family took this to the next level by moving to a completely different continent. 
Meet junior Allan Kamadjeu. To many, he may seem like a typical PV student; he attends many of the same classes as his peers and is even on the school basketball team. However, without getting to know him, one may have not guessed that he is actually an international student from Cameroon.
Kamadjeu's family moved to the US in July 2021 in search of better opportunities and to broaden their horizons. "When [my family] had the chance to move to the US, we knew that it would offer better opportunities than Cameroon would have," Kamdjeu explained. "We thought [of] the future of our family and could not pass up this opportunity after it presented itself to us."
The opportunities Kamadjeu is referring to are the free secondary education and the better job opportunities. 
Kamadjeu and his younger brother, freshman Enzo Kamadjeu, attended costly secondary school in Cameroon. The fact that public education is free until college was a contributing factor for his family to move to the US. And in terms of jobs in Cameroon, "unless you have a rich family as a base, there are a lot of people [in Cameroon] with masters degrees who can't find a job even from the work they put in. So they have to settle for way less," Kamadjeu explained. So, Kamadjeu's family came to the US hoping to take advantage of the "land of opportunity," in search of new avenues previously unavailable to them. 
With moving to a completely different continent comes adjusting to new systems, a new environment and even new social norms. 
The immediate change that Kamadjeu noticed was the school system. In Cameroon, all the students would stay in one class while the teachers would rotate, but in the US, the students rotate in the classrooms. Another difference in the education is the course workload. "I get much more homework [in the US] than the homework I got in Cameroon, but the good thing is that it [is] easier," Kamadjeu shared. "The homework is a lot more, but it is easier to finish with the deadlines that the teachers give. Not everything is due the next day so it's easier to manage everything."
Kamadjeu also noticed that people's interactions are different from those in Cameroon. "People appeared to be nice more so [than] act nice, but in Cameroon people are more aggressive but truthful at the same time." Kamadjeu shared. At first, there were many people who welcomed him well, but it was difficult for Kamadjeu to determine if the welcomings were sincere.
Nevertheless, this notion changed when Kamadjeu scored a buzzer-beater, three-point shot at a recent PV basketball game against North Scott. Although the Spartans were winning, as soon as he made the shot, the students from the student section and the players immediately came onto the court to celebrate his achievement, truly embracing Kamadjeu with a warm welcome. 
"It felt awesome, but what was more beautiful, even more than the shot for me, was the support I got from the students and everyone who cheered because I truly believe they initiated the shot," Kamadjeu exclaimed. "I truly thank them for that as I didn't think anyone knew me or even my name. It was a beautiful moment and I felt awesome."
Although Kamadjeu has voyaged to the US and is excited to seek better opportunities, he has not left Cameroon behind. In his free time, he video calls his relatives and his people back in Cameroon. "These people are my backbone," he said.
If there is one thing Kamadjeu has learned from his journey and is willing to share with people, it is that it is easy to take things for granted. Many people are unaware of how lucky they are to live in the US, with the vast opportunities that are available to them. "Coming from Cameroon where [Cameroonians] live with the bare minimum, I myself have become appreciative of what the US has to offer and I believe more people should be happy with what they have," Kamadjeu emphasized. 
Kamadjeu is looking forward to what is to come with his basketball team, the students at the school and his future in the US. He truly believes this is the beginning of something good, and the best is yet to come.