REVIEW: "The Batman" makes for a slow, somber, yet thrilling film
When "The Batman" hit theaters on March 4, 2022, expectations were sky high. With so many great Batman films being released over the years, "The Batman" had a lot to live up to. Was it yet another blockbuster success for the DC hero or did it fall short?
Rotten Tomatoes' critic consensus described the movie, "A grim, gritty and gripping super-noir, The Batman ranks among the Dark Knight's bleakest – and most thrillingly ambitious – live-action outings." Although the word "bleak" does not often come to mind when thinking about good movies, it perfectly captures the mood of "The Batman."
"The Batman" is an extremely dark film, both in mood and color. The greater majority of the movie takes place at night time, creating an eerie mood for viewers. The Batman is also dark as it portrays the deep corruption in Gotham City. Throughout the movie, Batman attempts to create order in a city that is just as broken as he is.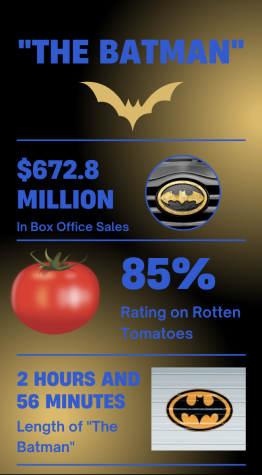 "The Batman" differed from other Batman movies with its extremely slow paced but erratic plot. The movie felt a little bit more like a murder mystery than a super hero movie. The movie itself was very long, clocking in at just a few minutes under three hours. Certain parts of the film did feel prolonged, but not to the point where it became unentertaining.
What made "The Batman" such a gripping film was the excellent cast. While many people believed Robert Pattinson was not a good fit to play the role of Batman, he did an excellent job of portraying Batman's intense personality.
Zoë Kravitz also did a great job as Selina Kyle in the film. It was very entertaining to watch the interactions between the impulsive Selina and the disciplined Batman.
Many PV students have watched the Batman movie and enjoyed it. Senior Max Withers thought Pattinson portrayed Batman very well. Withers said, "As much hate as it gets, I thought it was a masterpiece. Robert Pattinson played his role beautifully," he said. "I loved how the film was able to include various iconic villains and anti-heroes. There were certain action sequences in the movie where I got chills. 'The Batman' is the best movie I've seen this year by far."
The movie was not quite perfect in the eyes of Withers though. "One thing that I would have changed about the movie is giving Robert Pattinson more lines. I feel like he wasn't given enough speaking parts," he said.
Senior Ryan Groenenboom was not as high on the movie as Withers. "I thought the movie was way too long and slow paced. I wanted to see more action," said Groenenboom.
Overall, the movie was really well done. Its slower-paced style might not have been for everyone, but Batman fans appreciated the attention to detail throughout the film.