The NIL Policy: Fair for all or pay to play?
On June 30, 2021, the Division I Board of Directors passed the Name, Image and Likeness (NIL) Policy. The NIL refers to the rights of college athletes to monetize and profit from their personal brand. Essentially, this is a way for college athletes to get paid, and colleges may be able to exploit this new rule. 
The NCAA Rulebook states that NIL deals cannot be "pay for play." This means that organizations are not allowed to offer players deals just to sign with a particular school. So the work around for this is to write up a deal that will involve the player making social media promotions and public appearances for a brand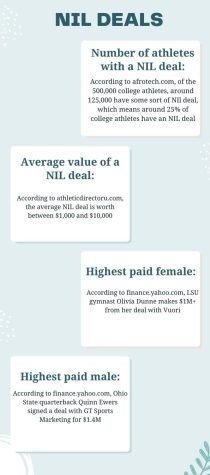 This issue came to the forefront of college athletics news recently when 5-star, 2023 quarterback Nico Iamaleava committed to the University of Tennessee and signed an NIL deal that could pay him north of $8 million over the course of four years.
The news of Iamleava's commitment and NIL signing have torn the college athletics world in half. Many are praising the athlete for inking such a large contract, but others think that allowing "third-parties" to essentially purchase recruits for schools will ruin college athletics. 
On one side of the spectrum, the NIL policy is a way for college athletes to profit off their talent. Senior Harvard football commit Aidan Kilstrom is a fan of the NIL rule. "The way I see it the new NIL rule is a great way for the top athletes to make quick big money making their athletic careers fruitful even if an injury prevents further play so for that reason it's great for the athletes," he said.
On the other hand, the policy can be a way for top college recruiters to lure their prospects. Senior Air Force football commit Luke Vonderhaar believes the NIL deals are unnecessary. "It makes powerhouse college programs such as Alabama and Georgia continue to get the best players because they have a way of getting their athletes bigger and better NIL deals. In my personal experience the NIL money is not necessary for most scholarship DI athletes as almost all of these athletes get stipends to help with smaller expenses as they don't have time for jobs because athletics take over their lives," he said. "Overall, the NIL Rule has its pros and cons but in the long run it may prove counterproductive as the excessive wealth could change priorities in the athletes lives."
While legally athletes are not allowed to receive NIL deals to go to specific schools, under the table deals and loopholes to the rule will likely cause athletes to take money into consideration when choosing the right school for them. It currently remains unclear how the NIL rule will affect the scope of college athletics, but it is certain that it will change the way recruiting works for years to come.