Carrie Underwood wins again: The 2022 CMT country music awards
On April 11, 2022, the 56th CMT Country Music Awards took place in the nation's country music capital: Nashville, Tenn. at the Nashville Municipal Auditorium. The awards were hosted by singers Kelsea Ballerini (virtually) and Kane Brown along with actor Anthony Mackie.  
The CMT awards date back to 1967 when they were held by the News City News magazine. Then, in 1988, the show transitioned to the Nashville Network (TNN), which commenced the fan-based voting platform that is known today. Finally in 2001, CMT joined TNN in the broadcasting of the show, before taking complete control. 
Unfortunately this year, on the morning of April 11, host Ballerini tested positive for COVID-19. Although she was asymptomatic, Ballerini was forced to host and perform at home. Despite this complication, the week-long special went uninterrupted, as well as the ceremony.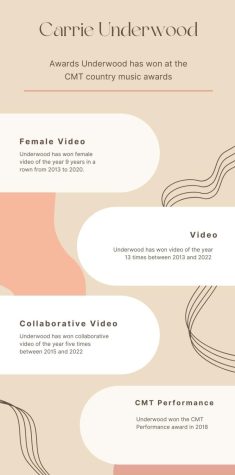 The CMT country awards are unique because they are the only country music awards that are entirely fan voted. The awards ceremony had all of country music's biggest names like Jason Aldean, Carrie Underwood and Cody Johnson. 
This year, Underwood and Aldean took home the top honors: Video of the Year, for their hit collaboration "If I Didn't Love You." After winning the award again this year, Underwood has extended her own record to 10 CMT awards. 
One of the best aspects of this award show is the voting process. "I really like how the fans hold all of the power in the election of the awards," said senior Jake Dolphin. "It makes the awards intriguing for the fans because they get to watch and see if their favorite artist wins, and they can feel pride for choosing them." Part of the reason fans are so invested in this award show is because they get voting power, and they like to see the candidates they chose win. 
The CMT music awards offer a chance for fans to listen to new music. "I enjoy listening to country music a lot, and this is a great way to listen to some of my favorite songs on a big stage," said senior Nathan Barlow. 
Despite the aforementioned COVID complications, this year's CMT Country Music Awards were still a success.