Dangerous and avoidable: Tennessee pushes for harsher punishments with drunk driving
On April 22, the state of Tennessee proposed a life-changing bill to those that have been affected by drunk driving or may be in the future. 
Tenneesse will be the first state to pass a bill that requires drunk drivers to pay child support if the result of the crash involves injuring a parent. The bill is likely to get passed within the next few weeks by Gov. Bill Lee, who has pledged to the citizens that he would help protect the next generation. "As I promised, I will do what it takes to protect the future of our most valuable resources, our children," he said.
Drunk driving is a very serious matter as it can be easily avoided by an individual under the influence. Deputy Fah is the school resource officer (SRO) at Pleasant Valley who preaches the harm and consequences of drunk driving. "When we talk about drunk driving, it is entirely preventable; the harm that people cause with drunk driving is extremely serious," he said.  "Anything that strengthens laws that prevent people from drunk driving is a good idea."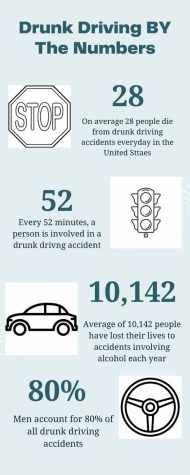 Tenneesse would be the first to pass a law that buckles down on drunk driving and leads the pack to more extreme punishments for those that chose to be irresponsible. Drunk driving has become a very frequent occurrence in the United States as 28 people pass away each day from drunk driving. The statistics are frightening and also bring concern as to why more states have not followed Tennessee in the process of making this a nationwide law. 
Deputy Fah approves of this new proposed bill and hopes it can help crack down on future drunk driving incidents. "Drunk laws as of right now vary state by state. If you kill someone drunk driving, there are already pretty hefty penalties because we take that stuff very seriously," he said. "I don't see why you shouldn't be responsible for things like that when you take someone's life when it can be prevented. If they passed a bill like this in Iowa I would be in support of it because it strengthens the idea of why you should not drive drunk."
As the issue of drunk driving still remains, citizens' lives will continue to be put at risk day in and day out. It can be prevented, and there is more at risk than what an individual might think at the time. Tennessee hopes to lead the charge and significantly reduce the number of drunk driving accidents in hopes of other states following their lead. Iowa is one of the states that is in need of new laws to limit drunk driving activities as statistics show the number of deaths have recently risen each year.