Overpriced and unnecessary: Celebrity's tendency to hyperconsume
All of us are prone to a little unnecessary consumption — picking up something at the grocery store we probably do not need or taking home a shirt we know we will not wear but just looked so cute. However for celebrities, hyperconsumption is far more than a one time occurrence. 
Anyone engaged with celebrity social media is bound to come across an Instagram story of an extravagant birthday dinner or PR package haul. While viewing these snapshots of  celebrity life, it is easy to romanticize the ability to buy a new balloon array for each day of the week or own private jets, but how much is too much when it comes to celebrity product consumption?
The prime example and trend-setter for extreme purchasing is the Kardashian-Jenner family. While they are not the only celebrities to indulge in overspending, they are definitely the most public about it.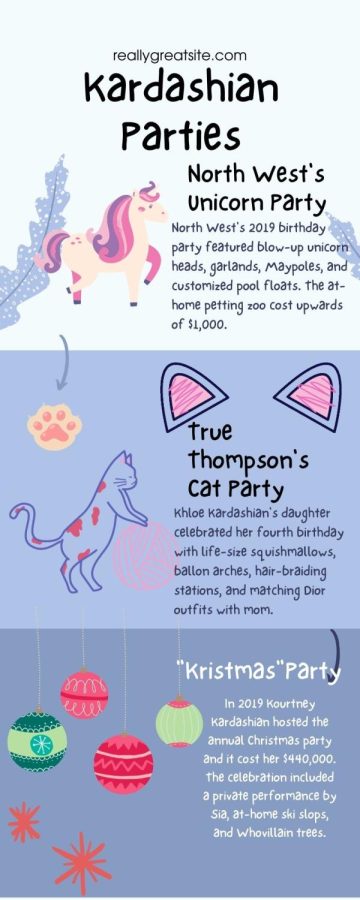 When Kylie Jenner's daughter Stormi celebrated her first birthday, Jenner's Instagram was covered with footage from the lavish party. Decorations included a blowup entrance mirroring Stormi's face as Travis Scott's Astroworld album cover, customized slides with Stormi's face on them, multiple Stormi-themed amusement park rides and the list goes on. 
The celebration was rumored to cost Jenner over $100,000 for an event her 1-year-old will retain no recollection of. Although the price of the party is outrageous, the bigger concern is the fate of the thousands of decorations, which were rendered useless after the party's completion. Unfortunately, they are most likely spending their days in a landfill.
Sophomore Chayla Harris shared her thoughts on the party's cost and its over-the-top nature compared to her birthday values, "I would never spend that much for a one year old. She would get a barbeque with hot dogs because she's one and she's not going to remember that when she gets older." 
The fixation with inessential items continues through the Kardashian-Jenner family with Khloé Kardashian's self-tokened "Khlo-CD." Kardashian often shares organization inspiration on her profiles, but the extent of the looks require hundreds of dollars worth of purchases. Kardashian is known for her "perfect" fridge where she organizes foods by category and color to present an aesthetic design. 
However, to achieve her fridge's renowned look, one must purchase hundreds of plastic containers and place their produce, which already has packaging, inside of the containers, and, for some foods, inside of another. The idea seems simple, but each time Kardashian purchases a new food and strips it from its pre-existing container, more packaging is wasted without proper use. 
While Kardashain fails to let packaging execute its purpose, PR packages sent to celebrities too often include luxury packaging with seemingly no purpose. In our modern world, social media influencers are the new celebrities, and these figures often post TikToks or YouTube videos opening the items they are sent by brands. 
The idea of PR packages is free advertising: the influencer will show the product and entice their viewers to buy it, so companies carefully curate the parcel it is sent in. For example, when Benefit Cosmetics launched a new strain of makeup products, influencers were sent a carnival-themed package that included a ferris wheel carrying the makeup. 
The presentation was colorful and whimsical but likely ended up in every influencer's trash can. Though the overconsumption enabled by PR packaging is not the fault of the celebrity, it is yet another instance of the shocking discrepancies between the consumption of a star and the average person. 
Junior Shelby Juehring discussed her perception of celebrity product intake as an outside viewer, "They most definitely consume way more than the average person. It really adds up over time from eating out for most meals, buying clothes and products to only use and wear once, to having multiple cars."  
Celebrities' luxurious lifestyles may look like the ideal living standard, but at what point does needless consumption become socially unacceptable?