Nike releases first new Kobe shoes since his tragic passing
Since the tragic passing of Kobe and Gianna (Gigi) Bryant, Nike has not released a single pair of the famous Kobe basketball shoes. To much surprise, on May 1, 2022, Nike released the Kobe "Mambacita Sweet 16" shoes in honor of what would have been Gigi Bryant's 16th birthday. 
The Kobe shoe line has been beloved by players, fans and shoe collectors alike. "For me, when I played basketball, I would wear Kobes because they are the most practical. They're super comfortable and give great support for playing," said senior Kris Basnet. They are by far the most popular shoe still worn today by players in the NBA. 
Nike's endorsement with Kobe lasted for years, producing 19 different silhouettes, each with multiple colorways. The shoes were widely successful, generating hundreds of millions of dollars in revenue; Shoe resellers are the most profitable from the highly coveted Kobe shoes. 
The Kobe "Mambacita Sweet 16" dropped exclusively on Nike SNKRS for those who, according to Nike: "have embodied the Mamba Mentality from the beginning and the young hoopers that have pushed Gigi's love for the game forward." However, for resellers, this was a grand opportunity for them to profit off this special release.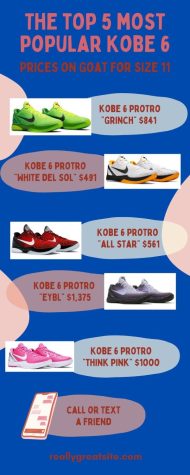 Following the death of Bryant, Nike removed all available Kobe-related merchandise available for purchase. They foresaw how ressellers would use this opportunity to profit off of this tragedy, and sought to proactively avoid it — they were right, too. Just 24 hours after the news came out, Business Insider reported that the resell price of the merchandise had increased "substantially" and "pairs of shoes on StockX that had gone for less than $200 were being sold for upwards of $1,000 on Sunday."
Resellers who were granted the special access purchased the shoes for retail: $180 USD. Now, these shoes are now worth more than four or five times that retail price. "I am a huge fan of Kobes, but the way that resellers upsell these shoes is absurd," said senior Drew Micek, "It really disappoints me because it gives me no chance to pursue them (the shoes)." The unfortunate reality is resellers are making the beloved Kobe shoes unobtainable for the average player, fan and collector. 
However, this is not the first time this has happened. Virgil Abloh was the founder and CEO of Off-White, a popular Italian luxury fashion label that has collaborated with Nike on several occasions. Similarly to Bryant, after Abloh tragically passed away in late 2021, resellers had a major opportunity to exponentially increase the prices of already highly desired shoes. 
Although there is technically nothing wrong with the way resellers are using the untimely deaths of famous people to become more profitable, many have criticized them for their morals. Shoes like the Kobe "Mambacita Sweet 16" are released to serve a bigger purpose than the motives of a reseller. It is disappointing for many to see meaningful shoes become unobtainable to the regular person for this reason. Nevertheless, these legends will continue to live on through their merchandise and through the positive messages they have embodied.