Top movies of the summer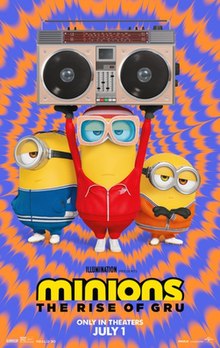 Dinosaurs, fighter jets, and tiny yellow henchmen in overalls.
Since COVID lockdowns kept moviegoers at home the last few years, 2022 saw a resurgence of cinema and the movie experience. The silver screens showed the sequels of some classics alongside some brilliantly original new movies. These are some of the biggest movies from the summer if you missed any!
NOPE
Horror, science fiction, and cowboy western: Nope is comedian-turned-horror-director Jordan Peele's third movie. This film is genre-bending and is uniquely Peele. The movie stars Daniel Kaluuya, Keke Palmer, and Stephen Yeun. 
This movie keeps you on the edge of your seat, anticipating what's next, and continues to surprise you. Set in North Los Angeles, Nope is a visual spectacle with a diverse set of plot points. Nope is a personal favorite to many and is a great watch for someone looking to expand their horizons.
Top Gun: Maverick
Starring Tom Cruise and Mike Teller, Top Gun: Maverick is a sequel to the 1986 classic Top Gun. If you loved Top Gun, you will love Top Gun: Maverick. Many say it's better than the original!
This movie has the now TikTok famous 'beach scene' that leaves viewers reeling. This instant classic was released in June and is the movie of the summer. You can now watch it on AppleTV and Amazon Prime.
Minions: The Rise of Gru
The yellow minions that have swarmed your mom's Facebook page with bad memes are back and now we get to see a side of these rascals we have never seen before! 
Set in a time before the Despicable Me movies, viewers get to see Kevin, Stuart, and last but not least, KING Bob come back for a hilarious movie for all ages in a way like never before. 
If you ever saw a group of teenage boys in a suit and tie on a random Tuesday, it probably wasn't for a date night or a dance, but actually for this exquisite new installment to the Minions franchise. No matter what, we know the Illumination execs are listening to Yeat and those bells ring, singing "I count money" as the racks keep stacking because of these Rich Minions. 
Elvis
Who doesn't love Austin Butler in a flashy jacket and pleated trousers? This movie was stylish and bold, showcasing the popularity of Elvis Presley in a new light to a generation that didn't get to see him live. Elvis will give you 'rubber legs' and leave you rocking in the jailhouse.
Jurassic World: Dominion
The third installment of the Jurassic World series came out with a roar this summer. A new life-changing scientific discovery has been made, and like the dinosaurs, it could break loose and become a danger for all. Protecting science from money-minded corporate overloads and the classic dinosaurs, Jurassic World: Dominion is a movie for anybody in love with the franchise.
Bullet Train
This star-studded movie features Brad Pitt, Bad Bunny, Sandra Bullock, and Logan Lerman. If that hasn't convinced you to watch it, then this might.
Bullet Train is a hilarious action movie where Brad Pitt's 'Ladybug' is an assassin trying to work one last job before calling it quits. Ladybug is on a bullet train where he feels safe, however, he is unaware of the looming danger of his humorous enemies and obstacles. You need to watch this witty movie to find out what happens!
Morbius
Known for the now world-famous catchphrase "it's morbin time" this 'it's so bad it's good' movie has stolen the hearts of memers around the world. Jared Leto plays Dr. Michael Morbius, the living vampire. Although it was first released in April, it was so good that they re-released the movie in theaters over the summer so people could see the Morbius Sweep one more time. Marvel fans will love this movie, while others may just watch it to get some laughs. Morbius is a certified classic and is the first movie to make a morbillion dollars.