Enthusiastic senior builds a competitive chess program at PV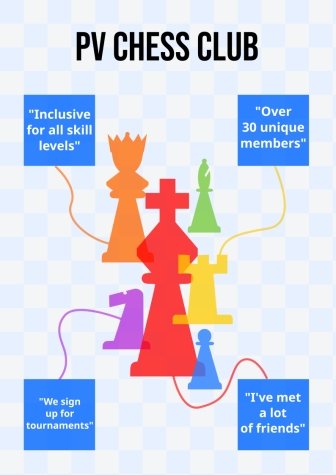 In 2021, PV Senior Bala Shukla won a chess tournament in Davenport, Iowa to become the best player in the Quad Cities. Now, he is sharing his chess knowledge with his peers, motivated to build a strong chess program at Pleasant Valley High School.
Chess is not a popular pastime for high schoolers, neither in PV nor in Iowa high schools in general. But beginning last year, that norm began to change. In 2021, Shukla and Atharv Neema started the 'Competitive Chess Club.' They acquired a skilled mentor to guide the progress of the team and started to hold regular meetings with 10-15 students each week. 
Eager to reach out to the school, the chess club hosted a board at the club fair on the first day of school. The club wants to make sure that freshmen who want to be part of this group know about the club. Shukla said, "We are growing, and we had a bunch of people interested in the Club Fair. We've hit nearly 30 unique members." He is optimistic about the future of the club's growth as well.
Henry Allers, an active member of the chess club, said that he enjoys the club. "The chess club is a fun time, and I've made a lot of friends. It is very inclusive to all skill levels and that's what makes it cool," shared Allers. Allers has made leaps and bounds since he started playing. "If you take me for example, I didn't know how to move half of the pieces until recently," Allers added.
Allers is a common case among the club members. The attitude of the club is that someone does not have to be good to join, but can become good if they do join.
Shukla registered some members with USCF, the United States Chess Federation, making them eligible to compete in ranked tournaments in the US. Periodically, tournaments are hosted in the Quad Cities, and the members are slowly trickling into these competitive games. Shukla announced recently that they plan to go to a competition within the next month.
The team's goal is not only to bring up PV chess, but to improve Iowa chess as a whole. The description of the club on Pleasval.org says, "Interested students in the community from smaller schools will be invited to participate and to help grow the chess playing community in our area." Shukla's vision is not just a PV one, but one that includes anyone willing to learn.