Top 5 novels written by Asian authors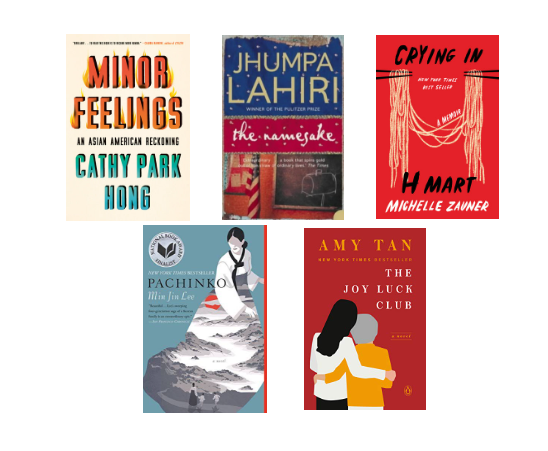 An interesting book is a great way to pass time and diversify one's mind. However, it's hard to choose which books are captivating as well as thought-provoking, so here's a list of the top five most interesting novels by Asian authors that will make you want to read more:
5: Minor Feelings by Cathy Park Hong
A memoir by poet Cathy Park Hong, "Minor Feelings" brilliantly explicates the feelings and experiences of Park Hong living in America as an Asian-American. Her openness and self-awareness allow readers to understand how her perspective and her identity affect how she sees herself and those around her. She's incredibly-self aware and humorous in the novel, making it an informative but fun read. 
4: The Namesake by Jhumpa Lahiri
In this novel, Lahiri beautifully portrays the journey of Bengali immigrants and their children as they navigate life in America. The titular character, Gogol Ganguli, is flawed and immature, showing a realistic portrayal of young adults. The insecurity he faces regarding his name and identity rings true to many first-generation immigrants. Lahiri's touching writing, realistic story and characters make for a heart-touching read. 
3: Crying in H Mart: A Memoir by Michelle Zauner
Michelle Zauner, the head of the band Japanese Breakfast, narrates her moving tale in this memoir. The memoir centers around Zauner's complicated relationship with her mother, and how Zauner dealt with the loss of her mother, and in turn, the connection to her Korean heritage. Zauner's heartfelt and descriptive writing allows the reader to empathize with and understand her pain; readers also root for her as she continues through life, navigating her emotions and exploring her heritage. 
2: The Joy Luck Club by Amy Tan
This novel, spreading across different time periods, tells the story of four Chinese women and their American-born daughters. The main character is Jing-Mei (June) Woo, a Chinese-American girl whose mother, Suyuan Woo, passed away recently. June and Suyuan faced a rocky relationship because of Suyuan's traditionalism and June's desire to be as American as possible. However, Suyuan's recent passing inspires June to explore and embrace her cultural identity. Through the story of June, Suyuan and the other characters, Tan tells the beautiful tale of culture, sacrifice and growth. 
1: Pachinko by Min Jin Lee
This historical fiction novel narrates the story of one Korean family who moves to Japan from Japanese-occupied Korea. A sweeping tale, Pachinko is filled with rich history, culture and emotion. The tragic stories of the characters and their persistence are moving. Lee's remarkable tale of a family through four generations of pain, betrayal and resilience is a must-read. 
These novels feature captivating stories paired with realistic and touching characters, making them some of the most well-written novels.