Season recap- All Pleasant Valley Volleyball has accomplished in the 2022 season
Season Recap
Although the 2022 season didn't end the way they had hoped, the PV volleyball team has so much to be proud of. 
Nov. 3 marks the end of the team's season, with a runner-up finish at the Iowa Class 5A State Tournament. The girls finished with a 29 and 7 win-loss record while picking up many tournament wins along the way. They won the Western Dubuque Invitational on Oct. 1, defeating some difficult competition. They also placed second at the Ankeny Centennial Invite to Dike New-Hartford, the previous 2A state champions. 
With a season of ups and downs, the team was able to dominate conference play, making 2022 the fourth year in a row PV volleyball has been named solo Mississippi Athletic Conference (MAC) Champions. 
On Oct. 25, the Spartans punched their ticket to the state tournament. On Oct. 31, they faced Waukee Northwest in the quarterfinals. They dropped one set, but played some great volleyball and moved on to the semifinals. After sweeping West Des Moines Valley 3-0, the team solidified their spot in the 2022 state championship match against Iowa City Liberty. 
Lots of nerves were flowing on the day of the championship and the girls felt comfort in repeating the tasks and words of encouragement they complete before every game. Life in the locker room before games is full of smiles, with lots of singing, dancing and team motivation. Before every game, the girls "groove," dancing to a song that became popular in 2021 titled "Let's Groove" by Earth, Wind and Fire.
The Spartans fought hard in the championship game, winning the first set with 12 blocks and 11 kills. The hard work and hustle was consistent throughout the remainder of the match as dozens of great plays began to pile up. The girls were eventually defeated by Iowa City Liberty after set 4, but the end result says very little about the success of the program as a whole.
A Spotlight on Seniors
As the senior members of the team shared some of their favorite memories and experiences from this season, it was easy to see the girls' tight-woven bond.
Senior Chloe Cline has been a part of the varsity team all four years of high school. She has earned numerous high honors throughout her years of play and will continue her volleyball career at the University of Evansville this spring.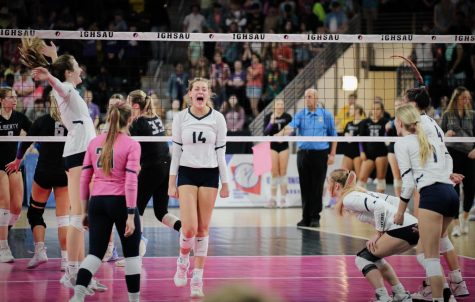 "My favorite moment this season was winning the first set against Liberty in the state championship. As a team we played so well in that set and the atmosphere made it so surreal," Cline stated. 
Reflecting on her experience with the volleyball program at PV, Cline had nothing but positive words and experiences to share. She is so grateful for all of the relationships she has formed these last four years with her coaches and teammates.
Cline continued, "The championship hurt this year, not because we lost, but because I don't get to go back out on the court with a Pleasant Valley jersey and play with my favorite people in the world." 
Congratulations to Co-Captain Chloe Cline on an outstanding four years with PV volleyball.
The next senior is Siena Roethler. She was the setter for PV in the 2022 season with big shoes to fill after Iowa Gatorade Player of the Year Kora Ruff graduated. Throughout the season, Roethler has kept a calm composure, motivating her teammates with positive talk and dominating one of the most difficult roles on the volleyball court. She too is grateful for the many memories and friendships made by playing PV volleyball. 
Listed below are more of the athletes' memories and thoughts on the 2022 season. 
These players all have their own stories as well—stories full of all different experiences and feelings in relation to the game of volleyball. Not only is the team full of volleyball talent, but it is also filled with multi-sport athletes. 
In addition to golf, track and soccer, four of the players will be playing on the basketball team this winter, one of which is Senior Halle Vice. Vice was named the 2021 Pork Producer in the State Championship Match last year, the same year her AAU team won the EYBL Nike National Tournament in 16U basketball.
As much as Vice's current coaches would love to see her on a volleyball court next fall, Vice will be attending Marquette University to play basketball. Vice is grateful for all the team did off the volleyball court, making lots of memories that they will remember forever.
Senior Kensie Staats will play volleyball at Cornell College. "I am so grateful to have played with these girls since elementary school. This group of seniors has such a tight knit bond and I am so very proud of all we have accomplished," she said. Staats will also be playing soccer for the Spartans in the spring where they too hope to bring home a state title. 
Emily Goodpaster couldn't be more thankful for the relationships she has formed with her teammates and coaches. "I will forever cherish the memories that were made these last four years and I am so proud of everyone," she shared.
Goodpaster, along with seniors Karin Fowler and Izzy VanDewiele won the USAV National Championship this June with their club team. Although they would all agree winning a national championship was their most memorable volleyball experience, there is something far more significant about playing volleyball in high school with all the girls you have grown up with. Goodpaster will be attending Case Western Reserve University next fall, planning to go pre-med while also excelling on the volleyball court. 
Karin Fowler was one of the three players that brought home a national title this summer. She has been a part of the Iowa Select Mizuno club volleyball team for many years now as a defensive specialist, alongside being an incredible leader at PV. She will be attending St. Olaf University next year to major in psychology.
Fowler states, "I am so thankful for all of these amazing girls I stand shoulder to shoulder with in the huddle, girls I've played with since I was 8-9 years old. They have shaped me into the volleyball player I am today and I owe it all to them."
Similar to Staats, senior Molly Ramirez is full of athleticism. She played high school volleyball, club volleyball, basketball and soccer for her first three years of high school. Ramirez will be playing soccer again this spring and will be attending Nebraska Wesleyan to play volleyball this coming August. 
"I am so glad I was given the opportunity to play and grow up with all of these amazing athletes. I have always enjoyed getting hype before games. This team has accomplished so much and will accomplish much more in the future," Ramirez shared.
Izzy VanDewiele experienced what it's like to be a part of PV volleyball for the first time this year. After transferring from Bettendorf this past winter, VanDewiele is grateful to have met so many new people and formed so many new friendships. 
"These girls gave me so many opportunities that I would not have without them." VanDewiele set many records at Bettendorf and had an incredible senior season at PV. The PV community will wish her the best of luck at nationally ranked Western Kentucky University next fall. 
Senior Ella Jones, like every other member of this team, is very fortunate to have been surrounded by such a great group of girls. "I have never met so many volleyball players that can sing AND dance as well as we can. I loved watching the younger girls get close and improve. I am so grateful for my time with PVVB," she shared.
Jones has been one of the friendliest members of this team for the last two years. She tried to get close to everyone and made sure everyone felt appreciated and valued. Her connection with not only the seniors, but also the underclassmen is one the program hopes to see repeat for years and years to come.
I am the last senior. The championship marked the last day of my volleyball career as I will be playing collegiate golf next fall. I have played volleyball with these girls since sixth grade and played basketball with a handful of them starting in third grade. 
Saying goodbye to the sport was hard as it was an important part of my childhood for so many years. Being a part of such a talented team was so great in many ways and provided me with many new experiences. I will sincerely miss practicing with these girls every day after school, but I know each and every one of us has a great future ahead.
The team has 10 seniors graduating in 2023 but has lots of young talent to keep the program rolling in success for years to come. Cheers to an incredible season.