Top 5 Harry Styles red carpet looks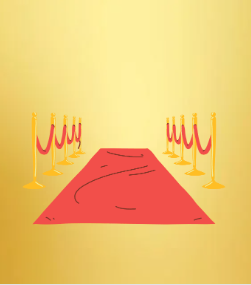 As one of the world's top musicians, Harry Styles has been on numerous red carpets. And known for his iconic outfits, the world has seen numerous amazing red carpet styles from him. Here are the top five:
An iconic outfit for an iconic night. This was the day when Styles won his first Grammy award and he started it off strong with a fun Gucci suit and a colorful boa. The unconventional pairings, like the pink v-neck sweater underneath his plaid yellow coat, may seem odd, but it matches wonderfully together especially with the brown pants. But of course, no one could rock this outfit better than Styles as he wears it perfectly, especially with the boa. 
Styles wore a gorgeous chocolate colored Gucci suit with a cute purple sweater underneath at the 2020 Brit Awards. The color of the suit is so rich and elegant and fits Styles perfectly. And of course, Styles's signature pearl necklace adds a wonderful finishing touch to an already stunning outfit. 
Styles looked beautiful in the black, sheer Gucci top that he wore to the 2019 Met Gala. This top allowed all his tattoos to peek through, and the stunning ruffles and embroidered cuffs make it one of his most memorable outfits. Not to mention, Styles manages to pull off the high-waisted slacks greatly, despite its unattractive shape. This iconic Met Gala look is one that'll never be forgotten. 
Styles looked marvelous in this beautiful pastel pink suit with a low-neck white knitted tank at the 2020 Gucci Cruise Show. And, his rose-tinted sunglasses provide the perfect pop of color with the other more neutral tones. But what makes this outfit really come together and stand out are his perfectly manicured, pastel nails; including a cute pastel green accent nail in contrast to his other pastel pink nails. 
This one's not a red carpet look but it had to be included simply because of how absolutely jaw-droppingly gorgeous it is. Harry Styles's pink Gucci cut-out jumpsuit at Coachella 2022 is his best outfit ever. The stunning and vibrant dark pink color is perfect on him, and the light pink fur coat embodies him so well. The chunky, silver belt matches so well and adds so much depth to the outfit too. Plus, his iconic butterfly tattoo is also visible with this outfit which already makes it number one.