Over 10,000 alleged bets, waging $100,000 in total, made by 17 current and former D1 Athletes across Iowa are capturing the attention of the world as gambling investigations spike. 
As of May 2, 2023, athletes engaging in any illegal activities influencing the outcomes of their own games or providing information to sports bettors could face permanent loss of collegiate eligibility. 
If an athlete wagers on their own sport at another school, sports wagering education courses will be required as a condition of reinstatement. In addition, the athlete could possibly be reprimanded of up to 50% of their eligible game time in a season. Betting before the age of 21 is illegal and consequences are still being determined by the NCAA.
The NCAA is pushing for each conference's presidents and coordinators to look into athletes in order to curb illegal gambling. Since this reform, The University of Iowa and Iowa State University particularly have taken heavy tolls within their football programs.   
Making recent headlines in college sports is Hunter Dekkers, Iowa State's starting quarterback last year. Dekkers allegedly placed 366 wagers, 297 of which were placed before he turned 21. Other starters on the list from Iowa State are running back Jirel Brock, offensive lineman Jacob Remsburg, tight end DeShawn Hanika and defensive lineman Isaiah Lee. Iowa State was picked to finish 10th out of 14 in the Big 12 Conference, yet since the loss of these players, high expectations for the season have dwindled from fans and commentators.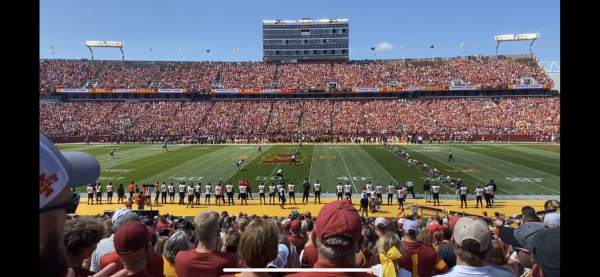 Iowa State has revoked NCAA eligibility from each of the seven accused players for the 2023 season. Outside of collegiate football, there are other big-name athletes facing charges as well. These include Panchiro Johnson, Iowa State wrestler, and Jeramiah Williams, Iowa State basketball player. 
Those aren't the only athletes being charged; University of Iowa has a few of its own. Former Hawkeyes Gerhig Christenson, Ahron Ulis, Arland Bruce IV and Harry "Reggie" Bracy have all allegedly placed wagers on their own sport and other athletic events during their time at Iowa. Players Jack Johnson and Aaron Blom were set to play on the Hawkeyes football team this fall. Johnson is currently still on the roster after allegedly placing 380 bets before turning 21, while Blom has been removed from the team altogether. 
With a son on the University of Iowa Football team, Coach Rusty VanWetzinga has strong opinions over the new NCAA regulations and how they are being implemented across various universities. "Obviously there has to be new guidelines and education for the college kids," VanWetzinga said. The NCAA requires all student athletes to sign a form explaining rules and potential consequences may a student be found guilty of gambling.
High school athletes, such as David Gorsline, are looking to further their athletic careers also take a school's gambling history into consideration. "Any colleges I have looked into do not seem to have a betting problem. These athletes are getting free college to play a sport, and they will bet small amounts of money on their own games. They are risking all the opportunities that many young athletes want to have, just to end up making extra bets on the side," multi-sport athlete Gorsline said.
As there remains uncertainty in the detection process of illegal activities among college athletes, the NCAA is searching diligently to uncover more betting athletes. "It's a different world we live in, everything is tracked, everything is monitored, you are always on camera," VanWetzinga said. 
Some college athletes use betting apps, creating accounts under fake names. Both Iowa and Iowa State discovered their athletes' accounts, established through different names. 
"I have learned a lot the past two months just about gambling, I never really paid attention to it, other than we signed a form, probably the same form we signed when I was playing. We live in a real different world right now," Iowa Coach Kirk Ferentz said in a pre-season interview. Sports betting is not going away. While collegiate gambling continues to grow, the expectations for athletes become even more prominent. Now, the world will continue to watch from the sidelines as collegiate betting continues to wreak havoc on sports team across American universities.