As Iowa's biggest game kicked off in Jack Trice Stadium, a second battle raged on nearby. Republican presidential contenders fighting for approval from the conservative state. The headliner: Donald Trump.
Seemingly unfazed by the looming election interference case in Georgia, Trump socialized with fans and fraternities. In hopes of reaching the younger audience, he flipped burgers and threw footballs outside of the Alpha Gamma Rho fraternity house. His efforts to persuade young Iowa voters comes as no surprise, as Iowa is still first in line for the republican primaries.
The Iowa caucus is sure to be a tone setter in the republican primaries. Trump winning  popularity in Iowa could lead to a domino effect of other states following suit. However, as votes continue to cycle through new generations, getting the young appeal is crucial to success. 
PV senior Nathan Musal believes that the changing opinions of younger generations could have a major impact on candidate choice. "From what I have seen, anecdotally, younger people are more likely to consider new candidates… so putting himself out there for younger people can make him more relatable to catch votes," he shared.
Trump currently leads in the most recent Iowa republican polls, receiving 42% of the votes as rival Ron Desantis has 23%. Musal believes that Trump receiving a majority of the publicity in the event could benefit Trump's cause. "I know a ton of people who were talking about Trump being at the game, even those who aren't necessarily supporting him. I think overall, this will help him on the margins in the republican primary," he said.
While his reception from the state, which he won by almost 140,000 votes in 2020, was mainly positive, there were some who didn't see it the same way. Several images from the event depict crowds of people making obscene gestures towards the former president. Proving, while he still has a lead in the polls, this uphill climb will certainly have increased difficulties compared to his last run.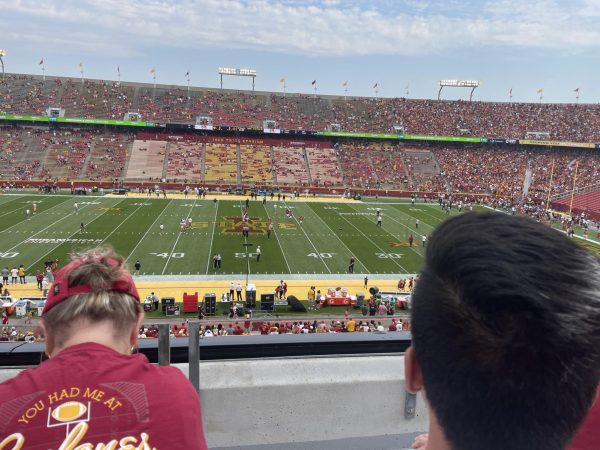 Trump certainly wasn't the only republican candidate to stake their claim on the Iowa battleground, as other candidates like Desantis, Vivek Ramaswamy and Asa Hutchinson were also in attendance, with a great understanding of the importance of the game and state itself.
While other candidates fought for attention, they still were lost in the shadow of Trump. PV senior Connor Schutte, who attended the game, noted that Trump was the only one he noticed. "I saw how everyone around me was looking for him and just trying to catch a glimpse. He seemed to really be in the back of most people's minds," he said.
So, who came out on top? Well, the Hawkeyes of course, but the true winner of the game within the game will be announced when the votes are tallied.