One last shot
Hang on for a minute...we're trying to find some more stories you might like.
On Tuesday, Feb. 6, 2018 Pleasant Valley's Girls and Boys Basketball teams celebrated four victories against hometown rivals, the Bettendorf Bulldogs, for the girls JV team, sophomore boys team, varsity girls, and varsity boys! All outstanding victories, despite the few losses each team has taken this season. Moving forward, both teams will be celebrating Senior Night in the next few games.
The Girls Basketball team will celebrate their Senior Night on Friday, Feb. 9 in their game against Clinton. They will be recognizing a large senior class this year: Kira Arthofer, Grace Budde, Rory Donahue, Taylor Gau, Cami Hunter, Grace Necker, Ellie Spelhaug, and Team Manager, Avery Luepker.
The Girls Basketball team has formed a close bond, as these seniors have been playing together since before they started competing in high school. Senior Cami Hunter says, "I have played basketball with these girls for as long as I can remember, and my team has become like a second family to me. I will definitely miss competing and spending time with my closest friends." While the Girls Basketball team will be letting go of nearly half of their team, they wish their seniors the best in what is to come. "I have made so many memories playing basketball with these girls, but my favorite was probably beating Rock Island in this year's IHMVCU shootout," Hunter said. Though the girls team has been successful this season, they do not rely solely on their skill set to carry themselves through a game. "We won because we were the team that played with the most heart which is something that makes this group of girls so special," Hunter stated.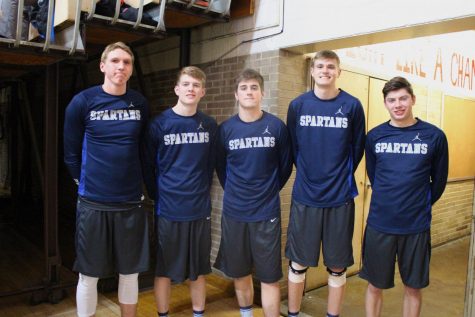 The Boys Basketball team will be playing at Clinton on Friday, so they will be celebrating their senior night the following Friday, Feb. 16. They will be recognizing five seniors: Caleb Carius, Brian Dayman, Cooper Edwards, Austin Halupnik, and Max Royer. Epic games, like the victory in overtime against Davenport West on Jan. 30, will be remembered for years. "My favorite memory is Carter Duwa hitting a buzzer beater to beat West in overtime," Max Royer said.
While spectators only get to see the team in action during a game, they have made some of their best memories behind the scenes. "My favorite memory is jamming on the bus after a big win!" Cooper Edwards stated. "I will miss going into practice everyday and just working hard to get better at basketball."
Come to the Girls Basketball game this Friday against Clinton to support their eight graduating seniors. Senior Varsity cheerleaders will also be recognized at this game on Friday, Feb. 9. The Boys Basketball team will be celebrating their seniors next Friday, Feb. 16.