Controversy over Harvard student admissions
Hang on for a minute...we're trying to find some more stories you might like.
On November 17, 2014, Students For Fair Admissions (SFFA) filed a lawsuit alleging that the Harvard University's admissions policies discriminates against Asian American applicants.
The lawsuit asserts that the Asian American applicants are frequently rated lower on personality traits, while having higher average standardized test scores and GPA. 
SFFA claimed that Obama-era guidance "gave colleges a wink and a nod to racially discriminate," and allowed universities to hold students of Asian descent to a higher standard. Additionally, it claims that all selective colleges have a similar selection process and hints that these should also be repealed. The lawsuit points to court ordered documents that show Harvard's admission rates and say that these back up their argument.
Harvard's stance on the issue is that the university's admission policies "do not discriminate against any applicant from any group." According to a Harvard study, about a dozen studied race-neutral alternatives couldn't "promote Harvard's diversity-related educational objectives as well as Harvard's … admissions program while also maintaining the standards of excellence that Harvard seeks in its student body."
In addition, Harvard accused the SFFA of intentionally skewing statistics, and "deliberately ignor[ing] essential factors, such as personal essay(s) or teacher recommendations." Harvard continually reiterates that race-considerate admissions are integral to creating a diverse class.
On Aug 30, 2018, the justice department filed a legal brief regarding the Harvard admissions lawsuit. Through the brief, the Trump administration broadcasted their stance on the scandal. They found "evidence in a federal lawsuit suggests the Ivy League school engages in "racial balancing" when it selects a class," according to the Washington Post. The brief stops short of endorsing a specific viewpoint, however, and simply looks to have the case heard.
After almost four years of legal skirmishes, this case will be officially heard in October. The ramifications of this case go beyond the discrimination of Asian Americans. It has quickly become entrenched as a political argument. If the plaintiffs are successful, affirmative action may not be able to be implemented, potentially reversing a key point of the civil rights movement. With this change, administrators may have to find other ways to create a more diverse campus.
About the Writer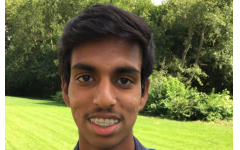 Shashank Inampudi, Photo Manager
Hello! I'm the photo manager for this year's Spartan Shield. I'm in charge of making sure all the articles you see have relevant and well placed...