My two cents on: The SENIOR/Junior lot
Hang on for a minute...we're trying to find some more stories you might like.
After what seemed like forever, the construction of the new addition is finally complete. This means parking lot A is now back in business.
Coming to the high school is a big change for students like me, but what made freshman year the most tolerable was looking forward to all the advantages I would have as a senior. One of the biggest advantages I looked forward to was getting to park in senior lot.
When I was a sophomore I knew I would have to park in Scott Lot and walk what felt like 10 miles into school. However, I was okay with that because I knew junior year it would only be like two miles, and senior year just five steps. But for this years senior class, that is not the case. Yes, senior lot is now open again, but it's not just senior lot anymore.
After two years of construction, senior lot has shrunk almost in half. That was bound to happen due to the new gym and tower being right in its place, but not only has it shrunk in size, it also has fewer parking spots. The whole front row of the lot is reserved specifically for teacher parking and handicapped students.
A lot was always known as "Senior lot". You had to have a specific tag to park there, but now, we have one parking tag for all juniors and seniors to park in all lots. That means there is nothing to stop juniors from parking in A lot. Because of the new lot size and the idea that most seniors don't actually have a first period, "senior lot" isn't really senior lot at all. Senior Joe Rupiper said, "A lot of times, seniors' classes don't start until third period, so they have to park really far out."
Most seniors are outraged by this extravagant change. Senior Jennifer Miller said, "If it was previously just seniors, then it should stay that way." Even some juniors have an understanding of this idea. Junior Carter Hall said, "I think that it's dumb to over crowd the parking lot. I don't even try to get in because I know early bird lifting will take all the spots."
In the end I guess I'll just have to get over the new set-up, but it still irks me. Just know, if you're a junior parking in the A lot, seniors don't like you very much.
About the Contributor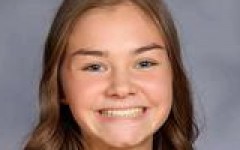 Ada Duncan, Feature Editor
My name is Ada Duncan and I am the Feature Editor for the Spartan Shield online. My step mom and dad are both teachers here at Pleasant Valley and I have...