The evolution of Christmas
Hang on for a minute...we're trying to find some more stories you might like.
Christmas is coming. That means it is time for kids to commence the annual writing of their Christmas wish lists. Life for Santa Claus this year is going to be a little harder than usual. Rather than employing the usual handyman elves, he has to be be looking for the more technologically savvy ones.
Christmas presents are drastically different with every generation. Don Fry, an English teacher here at PV, remembers celebrating Christmas in a time when the most common presents were Chatty Cathys, Easy-Bake Ovens, and GI Joe dolls. As a kid in the 1960's, Fry said, "I was a big GI Joe fan. I had the GI Joe boat, the GI Joe car, and even the GI Joe spaceship."
The 1970's were different as well. The hot Christmas gifts were indoor safe Nerf balls, Evel Knievel Stunt Cycle dolls, and Skateboards. Economics teacher, Eric Crawford,  experienced many Christmases in that decade. Crawford talked about wanting things like Tonka Trucks, Spirographs, and GI Joe dolls. Crawford said, "I remember always wanting a GI Joe doll, and I never got one."
Just 10 years after, the hottest gifts changed to Rubik's Cubes, Cabbage Patch Kids, and Game Boys. Math teacher, Pam Ancelet, remembers the majority of her childhood Christmases taking place in the 1980's. Although Ancelet couldn't recall a lot of specific gifts that she really wanted, she did remember one. Ancelet said, "When I was in school we used to want Cabbage Patch dolls."
In the 90's, the decade of Britney Spears , Clueless, and Titanic, children wrote to Santa asking for things like Pokemon Cards, Crocodile Dentist, and Tamagotchis. Math teacher, Nick Sacco, grew up during that time period and had no trouble remembering exactly what he wanted; K'nex Roller Coaster. Sacco referred to it as, "The new form of legos." Of course, that new form of legos is not so new now.
In the 2000's, children grew up dreaming about Furbies, Polly Pockets, and Webkinz. It was also the beginning of some of the technology gifts like Nintendo Wii, Nintendo DS, and the Ipod Touch. Senior Sam Hutton thought back to how her Christmas wish list looked compared to kids' today. Hutton said, "Today's kids want electronics and I just wanted little dolls that I could play with and use my imagination."
2010 was just eight years ago, but gifts then were still different. This past decade has truly transformed the toy industry, and the use of mainstream technology has grown tremendously. Kids were asking for things like Spy Net Video Spy Watches, Tonka Garage Ricochet RC Vehicles, and video games like Guitar Hero. But the world keeps on evolving and finding new ways to advance.
This Christmas, it is predicted that Christmas trees will be decorated with presents like the Fire HD 10 Tablet, designed specifically for kids, and the Nintendo Switch. Although presents like LOL Dolls, and Hatchimals will most likely be seen as well, it is obvious that kids today are more into the technology based gifts than any other generation that came before them. Gifts like the indoor safe ball and Pokemon cards just doesn't seem to be good enough anymore.
About the Contributor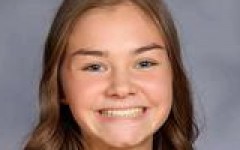 Ada Duncan, Feature Editor
My name is Ada Duncan and I am the Feature Editor for the Spartan Shield online. My step mom and dad are both teachers here at Pleasant Valley and I have...