PV Bowling strikes this winter
Hang on for a minute...we're trying to find some more stories you might like.
While basketball is the most well-known, there are many winter sports at Pleasant Valley that go unnoticed. One of these sports is the bowling team.
After two tryout practices in November, the team meets on Tuesday and Friday evenings at Big River Bowling where they are separated into their respective teams. Both boys and girls have their own varsity, junior varsity 1 and junior varsity 2 teams. However, these teams are not set in stone and spots are competitive come meet time.
The bowling team has meets roughly twice per week, one during the school week and one during the weekend. Each meet lasts around 5 hours, with two of what most would call "normal games" and five baker's matches. A "normal game" consists of each bowler having their own set of frames and taking turns until each bowler has completed their own. A baker's match is a match played by a whole team of five players, with two frames for each player. In five matches, each bowler plays ten frames of baker's matches in addition to their individual games in the league matches.
Senior and junior varsity bowler Shannon Mullen comments, "The baker's matches make bowling more of a team sport than one would think because it's a strategic type of match where you rely on each other to bowl in certain ways. Each person matters, and each bowl is crucial to team scores." While meets are a fun time to bond with teammates, it is important to stay in a focused mindset, as bowling is much more a mental sport than a physical one.
While many view bowling as a hobby or social activity, the bowling team is something that plays an integral role in team member's lives. Senior and varsity bowler Lindsey Voss comments, "Bowling plays a significant part in my life. Being varsity is no joke or cakewalk by any means. When you're there in a slot it shows you have what it takes to reach high scores but also skills such as spare and split conversions."
While bowling is not the most recognized sport at PV, bowlers work hard to pursue success at the lanes.
About the Writer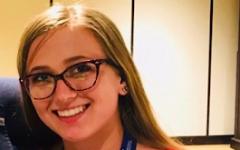 Ava Stigler, Editor-in-Chief
My name is Ava Stigler and I am the Editor-in-Chief for the Spartan Shield online alongside Gibson Yost. I enjoy keeping up with current news and politics,...