How to give back this holiday season
Hang on for a minute...we're trying to find some more stories you might like.
During the holidays, there are many fundraisers and sales to help a certain charity or organization. Many Pleasant Valley high school clubs are joining in on the spirit of holiday giving.
This year, the environmental club has decided to help families in Haiti get clean water.
For $15, you can purchase a PV environmental club camelbak water bottle. The entirety of the proceeds from the bottles are going to buy the water filters, as the water bottles have already been paid for by previous funds. One water filter costs $45, so the proceeds from three water bottles can buy one filter.
Each high-tech water filter can be connected with hoses to a bucket. A family can then use one filter to filter 150 gallons of water per day for up to 10 years, which will mean than they will have a supply of clean water for all of their needs.
"That means that instead of families cooking their food with contaminated water, they will cook their food with clean water," stated Dr. Lynn Lundberg, advisor of the environmental club. "Instead of drinking contaminated water, they will be drinking clean water. This is going to mean that kids won't get sick and adults won't die at very young ages."
Every single water filter bought will be hand-delivered to these families in Haiti. Lundberg has been to Haiti numerous times to volunteer, helping those in need. She is going again during spring break to deliver the filters.
The sale is aimed at the holiday season because they would make a good gift for a family for friends, but Lundberg is not taking the filters to Haiti until spring break, so people can still buy the water bottles until mid February.
"For just the price of three water bottles, it is going to make a huge difference to these families in Haiti," said Lundberg. "We can buy one of these high-tech filters and provide a beginning of a lifetime of health for a family in Haiti."
As stated by junior club member Margaret Huang, environmental club's purpose is to "raise awareness about environmental issues and volunteer to improve the environment."
To purchase a water bottle to support this great cause, stop by Lundbergs room (room 159) and follow @pvenviromental on instagram to learn more about the club.
About the Writer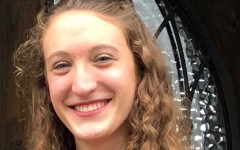 Brenna Morley, Copy Editor
My name is Brenna Morley, and I am a junior at Pleasant Valley High School. I am excited to be a copy editor for the Spartan Shield Online. I enjoy playing...