It's beginning to sound a lot like Christmas
Hang on for a minute...we're trying to find some more stories you might like.
The sound of Pleasant Valley Choir students rejoicing in Christmas tunes and carols brings joy all around the valley. These musicians practiced countless hours to perfect their Christmas repertoire. Their work began in Oct. to prepare for the caroling season and for their concert, which was held on Monday, Dec. 17th.  
Senior, Olivia Penniston, has been part of the PV Chamber Choir since her junior year. She shared that it has been extremely time-consuming getting ready for these Christmas concerts in each choir which includes the Pleasant Valley Singers, Concert Choir, Women's Ensemble, and Chamber Choir. "The concert went so well. Everyone payed attention to Mrs. Byrne and we worked so hard to make sure everyone was pleased with our music. It was so much fun singing with everyone in the Hallelujah Chorus." said Penniston.
The choirs worked diligently to prepare for the concert and were very happy with the outcome of their performance. A successful concert means of all their hard work has paid off.
Another activity that Chamber Choir members take part in is caroling in the community. Chamber Choir has multiple opportunities for singers to go Christmas caroling at nursing homes, and to perform at Rotary Club events. Each week approximately sixteen students take part in these community events.
Pleasant Valley Senior, and Chamber Choir member, Kenzy Wild, explained, "It was so heartwarming to be able to bring these elders so much joy and Christmas spirit. It felt like we really made an impact on their holiday season considering they aren't very exposed to caroling normally in their assisted living homes."
The Pleasant Valley Choirs are wholeheartedly committed to giving back to the community. Students that took part in singing for the elderly knew it brightened the nursing home residents day by the smile on their faces. The choir has taken part in these community performances for years and are dedicated to continuing the worthwhile activity.
The Pleasant Valley Choirs have a tradition of excellence and work endless hours to prepare for the Christmas season. They are passionate about their performances and also enjoy spreading holiday cheer.
About the Writer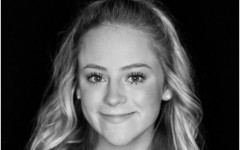 Laurin Baker, Editor-In-Chief
Hi! My name is Laurin Baker and I am the Editor-In-Chief for the Spartan Shield Online!! I love spending time with my family and friends, participating...