The Change of Pleasant Valley
Nick Acri, Staff Contributor
February 21, 2017
The Pleasant Valley school district was created in 1962 and merged with the Le Claire schools in 1966. Since then, however, many things have changed. The Pleasant Valley Community School District has grown to be one of the top school districts in the state of Iowa, according to usnews.com.
When Pleasant Valley first became a school district, it was very small, with a majority of its student body living on farms. Over time, the area has became much more developed and is still continuing to develop. With the recent developments in the Pleasant Valley area, the district has grown in size immensely. There are currently around 1,300 students enrolled at Pleasant Valley High School. With all of these recent developments, Pleasant Valley has shifted from a rural district to a more urban one.
As Pleasant Valley has grown to be a very large school district in Iowa, they have also grown out of their old stereotype: a bunch of farmers. Surrounding schools used to call PV students  the "onion pickers," according to various teachers and former members of the community. The nickname developed because of all of the onion fields in the area at the time. It also lead to several traditions. For example, rival school Bettendorf High School used to throw onions on the football field during the annual PV versus Bettendorf football game.
Speaking to current Pleasant Valley students makes it clear they do not believe this stereotype accurately defines PV anymore. Daniel Bastola, senior, said, "We are rich and stuck up white kids." Other PV students seem to have similar feelings regarding the current stereotype of Pleasant Valley at surrounding schools. Cody Snyder, senior, described the population of Pleasant Valley as  "preppy, rich kids." Nobody seems to look at PV as a school of onion pickers anymore. These opinions seem to be very consistent with what other schools in the MAC Conference think of PV today.
About the Writer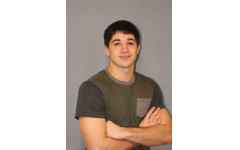 Nick Acri, Staff Contributor
My name is Nick Acri, I am a senior at Pleasant Valley. I play football and baseball at the PV high school. I am also a new member of the Spartan Shield.